Hatchet – Dying To Exist -

7.0/10
Summary
Hatchet
Dying To Exist
Combat Records/EMP Label Group
29 June 2018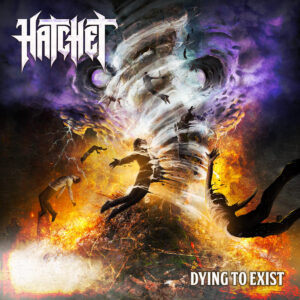 Dave Ellefson of Megadeth describes Hatchet as a great, young band playing aggressive modern Thrash Metal. The band describes their sound as "Pure, Uncompromising, Bay Area Thrash Metal", and the material on their fourth album as their "fastest and most creative to date."  True to their word, the album bursts with high speed riffs, screeching vocals and concussive percussion tempered with melodic complexities.
The lead track is a 30 second up tempo melodic instrumental "Unraveling Existence".  It blends seamlessly into the high speed Thrash tenacity of "Genocide".  The punishing pace continues through "Desire For Oppression", "Illusions Of Hope" and "Warsaw".  This opening quintet of songs showcases the band's creativity.  The requisite knuckle dragging Thrash elements are represented but the sophisticated bridging, blistering solos and melodic touches are what set these songs apart. There are a few obstacles to total bliss; they are an unfortunate sounding drum kit featuring a weak snare and muffled bass drums and an unusual vocal delivery.  Generally, the vocals are comparable to that of Death Angel or Overkill but they're frequently punctuated with random high pitched inflections.  It's almost as if the vocalist is being randomly shocked with high voltage. Other highlights are "Descent Into Madness" featuring Traditional Metal riffs complemented with touches of Thrash and the multi-layered Traditional Thrash of album closer "World In A World".
The energy released on Dying To Exist is barely contained.  The resulting chaos makes for an energizing listening experience.  Highly recommended for Thrash Metal fans and those who enjoy aggressive musicianship.
TUNE INTO METALEXPRESSRADIO.COM at NOON & MIDNIGHT (EST) / 6:00 & 18:00 (CET) TO HEAR THE BEST TRACKS FROM THIS UP-COMING RELEASE!!!
TRACKLIST (Highlights: 1, 2, 3, 4, 5, 9, 12 )
1) Unraveling Existence (Intro)

2) Silent Genocide

3) Desire for Oppression

4) Illusions of Hope

5) Warsaw

6) Where Futures Regress

7) Back Into Dust

8) Final Sanctuary

9) Descent Into Madness

10) Oblivious to Disorder

11) Hail to the Lies

12) World in a World
LINE-UP
Julz Ramos – Vocals/Lead Guitar

Clayton Cagle – Lead Guitar

Ben Smith – Drums

Devin Reiche – Bass Guitar