Wretch – Reborn -

6.5/10
Summary
Wretch
Reborn
Pure Steel Records
27 July 2018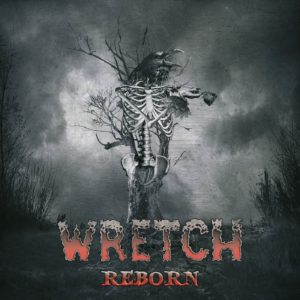 It's challenging to generate excitement for an album reissue.  Wretch does so by branding their 2006 full-length debut, Reborn, as "U.S. Metal made for real gourmets".  If using the word "gourmet" doesn't make you skeptical, touting a cover of Breaker's "Touch Like Thunder" as a highlight further lowers expectations.  Listeners initially wonder, "Who the hell is Wretch?"  Next, they think, "Who is the hell is Breaker?"  "What does "Touch Like Thunder" sound like?"  "How did I miss this?"  Don't feel bad.  These bands are both underground 80's Power Metal bands who were label mates on Auburn Records out of Cleveland, Ohio.
Any notions Reborn would sound dated and uninteresting are quickly crushed starting with "Mental Wars" and continuing through the remaining ten tracks of the original release.  The sound is a gritty version of Tornillo era Accept with a dash of Bayley era Iron Maiden.  The three best songs run back to back; 'Life", "Reborn" and "Eyes Of Fate".  Strong lead and backing vocals, melodic riffs interspersed with high speed runs and a pronounced rhythm section are the well-mixed order of the day.  Ironically, a twelfth track, "The Conflict", recently recorded and added as a bonus track doesn't meet the production or music quality of earlier tracks, and ends the release on a sour note.
Gourmet implies the listener has to be a Metal connoisseur with discriminating taste to enjoy Reborn.  This isn't so.  This meat and potatoes Metal has excellent shelf life and is still tasty.  Recommended for Metal fans who missed it the first time it was served.
TUNE INTO METALEXPRESSRADIO.COM at NOON & MIDNIGHT (EST) / 6:00 & 18:00 (CET) TO HEAR THE BEST TRACKS FROM THIS UP-COMING RELEASE!!!
TRACKLIST (Highlights: 3, 4, 5, 8, 10, 11)
Mental Wars
Cry For The Young
Life
Reborn
Eyes Of Fate
The Winners
Skin To Skin
I Am Storm
Nothing
Touch Like Thunder
'Til Death Do You Part
The Conflict (Bonustrack)
LINE-UP

Vocals – Colin Watson

Guitars – Dave Hayes

Guitar – Nick Giannakos

Bass – Dennis Hayes

Drums – Jeff Curenton