EVIL HUNTER– Evil Hunter -

7.5/10
Summary
EVIL HUNTER
Evil Hunter
Fighter Records
10 April 2018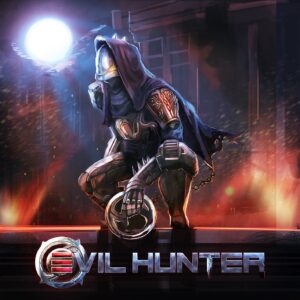 Evil Hunter's bio describes the band as talented musicians with experience recording and touring excited to pour their positive energy into their eponymous debut .  Evil Hunter strengths are masterful musicianship, solid song craft and a high quality mix. Its challenges are lead vocal limitations and consistent addictive hooks.
The stand out track, "Surf The Waves", leads with a frenzied onslaught of dual guitars, bass, and drums authoritatively staking out its Traditional Heavy Metal turf.  Unfortunately, a weak attempt at a Halford-like scream by the lead vocalist starts off this track. Perhaps this is the reason the mix doesn't favor the vocals.  Instead, vocals, guitars, bass guitar, and drums are equally mixed allowing the listener to hear any of them with little mental effort.  The title track is the pinnacle of the album.  It delivers an addicting Groove Metal vibe paired with a memorable chorus delivered with a pleasing Udo-esque rasp backed with complementary backing vocals. The next four songs don't match the quality of the opening pair but are consistently enjoyable. One of which,  "Hot Leather" shares melodic similarities with Accept's "Up To The Limit" from 1985's Metal Heart. After a six pack of solid tunes, the band takes a shot at a ballad with "By Your Side" but the chorus just doesn't have a memorable hook.  High speed closer "Open Up Your Eyes" doesn't live up the benchmark set by earlier tracks.
Evil Hunter reflects a band getting the most out of their collective talent and experience.  A sum greater than its parts.  Professional production, spirited musicianship, and well-constructed songs yield a solid album.  Recommended for fans of Heavy Metal, Hard Rock and Power Metal.
TUNE INTO METALEXPRESSRADIO.COM at NOON & MIDNIGHT (EST) / 6:00 & 18:00 (CET) TO HEAR THE BEST TRACKS FROM THIS UP-COMING RELEASE!!!
Track list:
1.      Surf The Waves
2.      Evil Hunter
3.      Heartbeat
4.      Hot Leather
5.      Hold Me Tight
6.      Go
7.      By Your Side
8.      Open Up Your Eyes
Band Members
José Rubio – guitars
Damián Chicano – vocals
Gustavo Segura – drums
Victor Durán – guitars
Alberto Garrido – bass