CRYONIC TEMPLE - Deliverance -

6/10
Summary
CRYONIC TEMPLE
Deliverance
July 11, 2018
Nuclear Blast Records
Maxxxwell Carlisle (at) MetalExpressRadio.com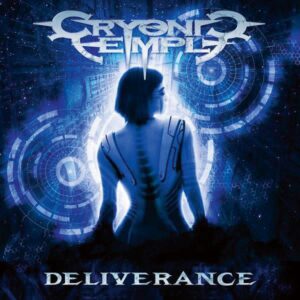 Deliverance, Cryonic Temple's 6th studio album, while still a very solid Power Metal album, lacks much of the raw energy and excitement that Cryonic Temple initially became known for. The album's ten tracks consist of mostly mid-tempo songs, all with a strong Melodic Metal frosting.
This album is considered to be a conceptual continuation of the story line that was started on Cryonic Temple's previous release Into The Glorious Battle, although the story arc is not obvious within the context of the songs. The general themes are similar though, and fans who enjoyed that release will also enjoy this one. That being said, those who had hoped for a more aggressive style on the last album will still be left wanting with Deliverance.
Certainly, in today's music market, we can see why Cryonic Temple would like to maintain a fast pace of album releases, however one could easily argue that this album could have been released as a double album when combined with Into Glorious Battle. Or perhaps they could have just dropped a few songs and made one, long, top-shelf release.
TUNE INTO METALEXPRESSRADIO.COM at NOON & MIDNIGHT (EST) / 6:00 & 18:00 (CET) TO HEAR THE BEST TRACKS FROM THIS UP-COMING RELEASE!!!