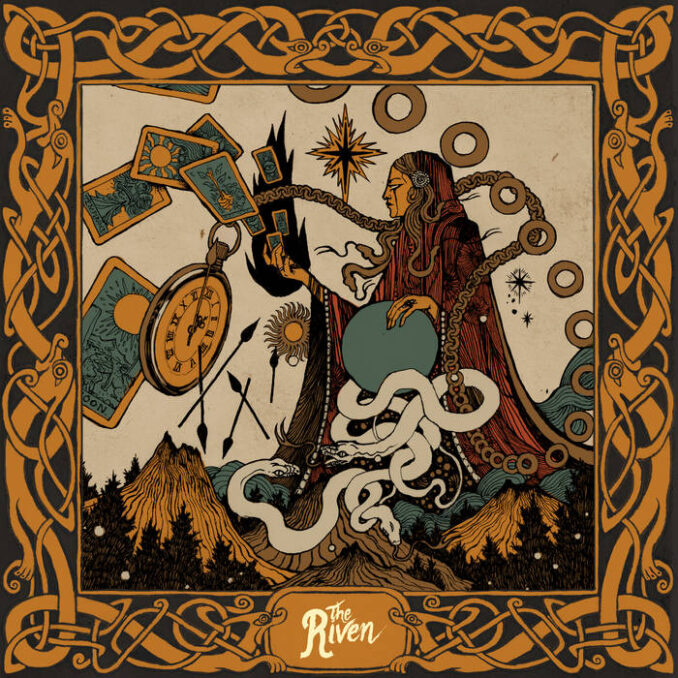 Summary
Label: The Sign Records
Release Date: 2019-03-01
It happens often that people complain that Modern music is nowhere near as good as that from a couple of decades ago. That shouldn't really come as a surprise – many of the legendary bands that ruled the global popular music scene in the second half of the previous century have either ceased to exist or are on their last legs. Well, last tours, to be more precise. And of course, those who were born too late to see their legendary line-ups must have asked themselves many times why couldn't they have been born twenty years earlier, so they could have seen Led Zeppelin, Pink Floyd or Rainbow – to name a few. There are a few things these people can do. They can watch a live DVD. They can also keep on wondering what if they were born many years earlier so they could have seen these bands. And there is one thing they certainly should do – that is to check out the self-titled album by a Swedish rock band called The Riven. Not only does it sound like it's inspired by the aforementioned bands (and not just them), but also is it new and, most importantly, it certainly does defy the thesis that modern music is mediocre and has no soul.
The band has been active since 2016 and this album is their second one. "The Serpent," which is the opening track is a catchy start. It sounds very much like Deep Purple or even Guns 'n' Roses, but instead of having a singer that sounds like a moody cat, The Riven has a lady taking care of the vocals and she's doing it really well, to say the least. No, she's not another Tarja Turunen, but she does not need to be. She's the female version of Robert Plant and Ronnie James Dio. Her vocals, clean yet very powerful, convey a lot of emotion and that's what matters.
Yet another positive surprise about the album is the fact that the bass can be heard very distinctly in most of the songs. It's not just the fact that some of the bass lines are really groovy – it's also nice that the bassist is clearly one of the band members, not just a random bloke that plucks the four strings while standing in the background. And on some of the songs, the bassist is doing a really good job, like for instance on the fifth track titled "Finnish Wood," which is probably the best song on the album. Certainly is it the most diverse one. It incorporates the sound of so many amazing bands: Pink Floyd, Scorpions, Black Sabbath (fans of the album Sabbath Bloody Sabbath may approve of this one particularly!) and some more.
If there is anything that might be annoying (and that's to a rather small extent), it is the production, especially on the following song, "Fortune Teller." It could be a bit more punchy, especially the bass, though that is a matter of taste. But even with that one minor drawback taken into the account, it still is a really dynamic and catchy tune.
Another good thing is the fact that the songs are really diverse. Except for the Hard Rock spirit, some compositions have a ballad feel to them, like "Far Beyond," with its deep, slightly trance-like atmosphere that could make one think of Pink Floyd easily. The guitar solos are rather simple, but this kind of music does not require anything crazy. These solos are supposed to express emotions, not show off skills.
The composition that ends the album, "Sweet Child," is the longest one. The mysterious verses and bridge contrast with the powerful chorus, but that's the kind of contrast that makes songs amazing. Funny enough, this song does sound a fair bit like the famous "Sweet Child" by Guns 'n' Roses, but in all honesty, it's even better. If there is anything there to complain about, then it's the outro – the song ends way too abruptly, but other than that? Nothing.
To sum everything up, this album is a really good piece of work and the band certainly does deserve more recognition than they have so far. There's genuinely nothing that could be disliked about their music, as long as one likes the oldies. What is particularly praiseworthy is the fact that despite sounding like many bands from the past decades, The Riven do not copy other artists. They're not a band that claims to be bringing Rock Music back to life while simply ripping off AC/DC, Led Zeppelin or any other group. Speaking of AC/DC, one of their last songs with Bon Scott on vocals says that "It's A Long Way To The Top If You Wanna Rock 'n' Roll." Hopefully, it won't be too long for these guys.