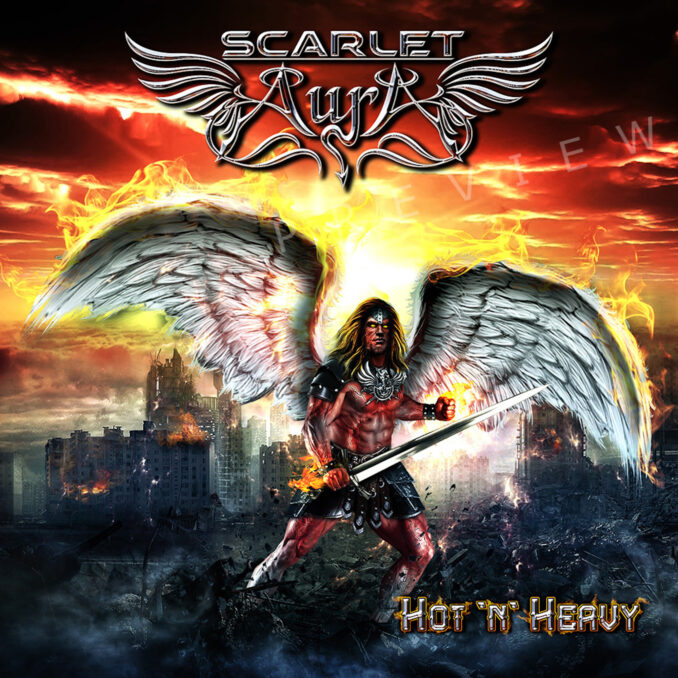 SCARLET AURA-Hot 'n' Heavy -

7/10
Summary
SCARLET AURA
Hot 'n' Heavy
Sliptrick Records
December 11, 2018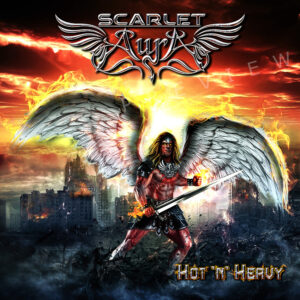 The great work on the iconography of Heavy Metal album art has probably not been written yet, but when it is, the cover for Scarlet Aura's newest album Hot 'n' Heavy would make an interesting case study. An ultra buff warrior angel brandishing an unwieldy sword strides away through the rubble of an apocalyptic city, flaming fist clenched, looking as though he is about to dispense more holy retribution on the next conclave of sinners. Does the angel signify a collection of Christian Metal a la Stryper? Song ten is "Light Be My Guide" which seems Stryper-y, but eleven is "Let's Go Fuckin' Wild" (great tune, btw), so probably not. Does the artwork indicate more of a fantasy-based Symphonic Metal project? Opener "The Future Becomes Our Past" and follow up "Hail To You!" sound like they could fit in on some troll and wizard infested project, but the album's eponymous song and following track "Fallin' To Pieces" have a more earthly ring to them.
So if the titles and artwork seem somewhat at odds, what exactly is Hot 'n' Heavy? Simply, asolid collection of songs that at once seem pleasantly old school Metal in their styling and delivery, but adorned with more modern elements (including, yes, some Symphonic Metal accents). Singer Aura Danciulescu has a great raspy Metal voice, one she uses to sound alternately epic and intimate.
The Romanian band has put out four studio albums, a handful of singles and a concert album/DVD since their formation in 2014; Hot 'n' Heavy is accompanied by the release of The Book of Scarlet-Ignition, the first of a trilogy written by Aura; one hopes that their work ethic is rewarded.
TUNE INTO METALEXPRESSRADIO.COM at NOON & MIDNIGHT (EST) / 6:00 & 18:00 (CET) TO HEAR THE BEST TRACKS FROM THIS UP-COMING RELEASE!!!
Speaking of iconography, someone should tell Mihai to lose the Confederate flag patch.