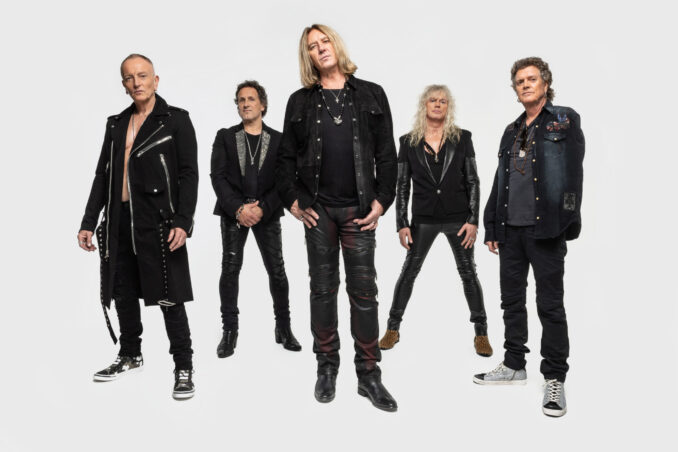 You`ll be touring the UK and Ireland at the beginning of December. Are you looking forward to getting started?
Very much so.  It`s always good to get back and play in the UK and around Christmas time too and it`s a bunch of home town shows for us.  Joe lives in Dublin and I live in Belfast, Phil`s in London and Sav in Sheffield so it`ll be good to be back in those places again.  It`ll be busy but it will be good craic.
Bearing in mind you never seem to be off the road, how far in advance of a tour to you need to get together to discuss the production and the setlist?
We did 60 shows in North America with Journey as co-headliner from May to October. We then had the luxury of having two shows in Honolulu.  We went there a few days early to work on production ideas and it was from there on that we changed the show for the forthcoming tour.  We had a couple of days of rehearsal there but all in all it didn`t take us too long to get up and running for this tour. We`ve been doing this for so many years that we`re pretty much up to speed anyway.
What sort of show do you have planned for this tour?
As always with Leppard it`s very high production and every time we go out on the road we up it to some extent. It`s a very hi-tec, a very slick show. We`ll open with the complete Hysteria album in sequence and then we take a brief intermission then we do a greatest hits set.  In between there`s a video montage to spice it up.  It`s a really good show and the band has been playing better than ever this year so this tour is going to be great. The shows we did with Journey were great.  We seem to be pulling in a younger audience now too so that youthful energy translates to us as we really feed off the energy of the audience and that results in us playing better than ever.  It`s a great time for Def Leppard at the moment and we`ve just got nominated for the Rock and Roll Hall of Fame too.  It`s a really big deal over in America and whether or not we get accepted we find out in mid-December. The nomination itself has generated a lot of interest. We all feel that Def Leppard has stepped up to a whole different level this year and that our star is in it`s ascendancy this year. It seems as though we`re graduating into the realms of one of those legendary Classic Rock bands. We`re playing so well and we`re really motivated so it`s been a great year all around.
You are joined by Cheap Trick which is a great addition to the show. You always pick really strong support acts.  Is it important to you to put on a complete package for your fans?
Absolutely.  One thing with Def Leppard is that we never cut corners.  We always put the money back into the production and that includes paying for the best support band.  You reap what you sow. We want people to leave the show thinking that it was one of the most spectacular shows they`ve seen and if they don`t then we`re not doing our job. Cheap Trick are an exceptional band.  It`s going to be a great tour.
You have a new compilation album out called The Story So Far. Were you all involved in choosing the songs?
Joe was more involved than anyone in pulling that together.  Joe usually goes through everything and comes up with what he thinks is best and nine times out of ten Joe has it right. Joe has an uncanny sense for these things and still has a fans perspective. He can really get inside the fans heads and understand what people want. I`m more than happy, as I always am, to defer to Joe`s judgement.
The two-disc version is for those who want to dig a bit deeper in to Leppard`s catalogue including Bringing on the Heartbreak from High and Dry.  Is that a way of introducing fans to the rest of your catalogue who might not know those album tracks?
Exactly.  I think people will always start with the first disc and if by the end of that they`re curious they`ll move onto disc two and discover what might be new to them.
Both versions include a new song, your take on Depeche Modes Personal Jesus. Why did you pick that song to cover?
I actually have to take credit for that.  That was my idea.  We were doing a Spotify session and they asked us to do two songs one of which was Hysteria and they also asked for a cover that was outside of our usual genre.  Personal Jesus was actually my second choice. My first choice, and I still think that we would have rocked the shit out of it, was Knowing Me Knowing You by Abba. It has a really nice melody motif and we could have done an interesting version of that with me and Phil playing the harmony parts.  Having said that it was going to take a lot more work to tackle that than Personal Jesus which is basically a Blues song. Johnny Cash and Marilyn Manson have covered it in the past so we thought we`d do our own version and I knew we`d do a good version of it.
On the double disc version there`s a couple more new songs including We All Need Christmas. Is that a traditional sleigh bells type of Christmas song or a more reflective one?
It`s more of a traditional Christmas song and I think it`s safe to say that it doesn`t Rock. It`s extremely unlikely that we`ll ever perform it live but it is a traditional Christmas song that Sav wrote.  It`s great and it`s a bit of a throwback to the songs of the `70`s by Slade, Wizzard and Greg Lake.  It`s a traditional, feel good Christmas song.
There`s also a remix of the David Essex song, Rock On, which was originally on your covers album, Yeah.  What has the remix changed on that?
I have no idea.  Going back to what I said earlier about Joe. He did that and he knows where all the bodies are buried.  I didn`t even know that existed. I should pay more attention.
You`ve just released your catalogue in digital format recently.  Why has it taken so long to do that?
Our entire catalogue has finally gone online for download and streaming services. It took us so long to do that as we had a dispute with the band`s original record company.  The original contract goes back to 1977 and was just getting rolled over and rolled over.  Nobody ever took into account digital technology so there was never any provision for that in the contract.  We weren`t getting paid for digital sales so had been going back and forth for years with the record label doing arbitration trying to find a reasonable compromise. We came to an agreement last year and this year they`ve launched the digital catalogue.  I think this is what`s driving the more youthful element of our audience.
It`s been three years or so since your last album, Def Leppard.  Have you started work on the follow up?
Some songs have been exchanged already.  Our touring schedule next year is not as intense as this year`s so we will get into the studio at some point next year.  I wouldn`t go as far as saying we`ll get an album out in 2019 but we might.  You never know. We`ll certainly be working on new songs though.
That album seemed to cover so many different aspects of Leppard`s career on the albums from Let`s Go which has a Pour Some Sugar On Me feel to it, Dangerous could be from Pyromania and Sea of Love and All Time High looks back to your heavier, early days.  Will you be looking at a similar degree of diversity for the next album?
I would imagine so.  The last album was very diverse and covered every area that we`ve covered in our past.  Blind Faith that closes the album was even verging on Psychedelic Rock which is something we`ve never done before.  I do say that it`s the best album Def Leppard have made in the 26 or so years that I`ve been with them.  The interesting irony of that record though is it`s the one I had the least to do with. I didn`t get to participate in that album much for a couple of reasons mostly due to my health.
How is your health now?  Are you in remission?
No, not at all. I`m in a holding position at the moment and have been doing immunotherapy for three years and just had an infusion yesterday.  I`m supposed to do it once a month but due to our touring schedule I get it every six to seven weeks. It`s something of a wonder drug and is the same that Jimmy Carter took to cure his melanoma and is given to people who have a certain genetic marker for multiple cancers. I still have two tumours but they haven`t got any worse and I don`t suffer any noticeable side effects from the drugs other than a little fatigue so I`ve been able to continue with my work schedule.  I`m happy to say it`s the least of my concerns.
You also all took a lead vocal on We Belong.  Was that a one off or is it something you could explore further?
I`d love to do that again as I thought it was really interesting having all of us singing on it for the first time.  It was a great song.
You joined Leppard in 1992, a mere 26 years ago.  Your first major show was at the Freddie Mercury Tribute show at Wembley Stadium.  That`s quite a show to make you first appearance?
 It was quite a day.  Technically my first show was a club show that we did in Dublin a few days earlier but the Freddie Mercury Tribute was my first proper public debut with Def Leppard. It was a short set with only three songs but there was so much to take in. It was in the historic Wembley Stadium and there were so many legendary acts there from Elton John, David Bowie and Queen. It was wall to wall celebrities. It was a bit of a blur but I was very aware of what the other guys must have been thinking playing their first show without Steve Clark on guitar. I was wondering how they felt being on stage at such a high profile even for the first time without Steve, who was a founder member of the band.  We were all very well-rehearsed for the show so I wasn`t concerned about my performance and I`ve always found that the bigger the gig the easier it is as there`s such a disconnect from the audience so they become an abstract concept. In a theatre or a club you can see the whites of their eyes and it`s more distracting playing smaller shows as I like to engage with the audience.  I was more concerned for the guys in the band playing without Steve for the first time. When Brian May got up and did Now I`m Here with us it was brilliant.
 What`s the latest with Last In Line.  Have you finished the follow up to Heavy Crown?
  The album is all done and it sounds absolutely epic. We`re all so excited about this record.  It really sounds like a band`s second album. You can hear the growth in the song writing and production.  We`ve already shot two videos and the first video drops late November.  The art work is done and everything is set for the album release in February and we do our first shows in America on January 17th and we`ll play until May then I`ll be doing some festivals with Leppard over the summer.  I should think we`ll do so UK shows in October or November.
 Where the album worked so well, is that it had the original members of Dio but with Andrew Freeman you didn`t sound like your own tribute band. It sounded fresh and exciting.  Was that important to you, to create something with the Dio blueprint but not a carbon copy of what you did before?
 If we`d gone with a Ronnie soundalike it would have been tacky and we would have painted ourselves into a corner and there would have been no chance for the band to grow. That`s another reason why I`m getting excited about this is that we`ll have more of a chance to play our original music.  We`ll still play some of those Dio classics and it`d be stupid not to but most of the show will be based around original Last In Line material but we will always play Holy Diver and the song Last In Line, I remember on the Holy Diver tour with Dio we were going out and most of the set was made up of Rainbow and Black Sabbath songs. By the second tour we were able to play more Dio songs so it became less of a tribute show.  We still did a couple of Rainbow and Sabbath songs but most of the show was Dio stuff.  We`re already planning on playing at least two new songs before the album is even released when we start touring in January.
 Losing Jimmy Bain was a real blow.  How difficult was it for you to carry on when he died?
 We felt that as it was Jimmy`s last band and his last record and I know that Jimmy was immensely proud of it and he even went out and got a Last In Line tattoo which was the only one he had. I knew it meant a lot to him so when we started getting great reviews it became obvious that we had to continue.
 How is Phil Sousan settling in?
 He`s fit in very well.  In many ways he`s very similar to Jimmy.  In other ways he`s very different.  One of Jimmy`s great strengths was he was a very simple player who had great tone and the way he locked in with Vinny.  Phil is more intricate and is a bit more busy so if you imagine how Geezer Butler plays with Sabbath, John Entwistle with The Who or Noel Redding with Hendrix.  He`s come up with a lot of ideas for this record.  We did it very much like Heavy Crown. Nobody brought complete songs but we all brought ideas and riffs and we worked on them together.  I told Phil not to bring complete songs as if we`d done that it wouldn`t have the same organic growth that Last In Line does have.  That`s how we wrote in Dio too. We didn`t bring songs in, we brought in ideas that we bounced off each other and grew the songs from there.  It`s worked every bit as well with Phil as it did with Jimmy.  While Jimmy was more laid back and let the music do the talking Phil was more A-Type.  Phil was more forceful with his ideas and a couple of times I had to pull him to one side and tell him to slow down. He`s very quickly found his role in the band and adapted to the way we write.  Phil turned out to be an inspired choice. We played with a few bass players before Phil and one or two were really famous too but as soon as Phil played we knew he was the right for the band.
Would there ever be a time where Last In Line could open for Def Leppard?
I don`t think so.  It wouldn`t make sense.  A lot of last In Line fans wouldn`t want to see Def Leppard and a lot of Leppard fans are already Last In Line fans. From an economic point of view, it wouldn`t add much to the package which is why we chose Cheap Trick because people feel that they are getting more value for their money. For the real hard-core Leppard fans, it`d be nice to do a package where Def Leppard performed with the Down `n` Outz, Delta Deep and Last In Line. You could throw Manraze in there too.  Maybe we could do that at a residency or on a cruise or something.
Def Leppard`s Tour of the UK and Ireland starts on 1st December in Dublin with special guests Cheap Trick. 
See http://www.defleppard.com for more details.
Interview By Mick Burgess