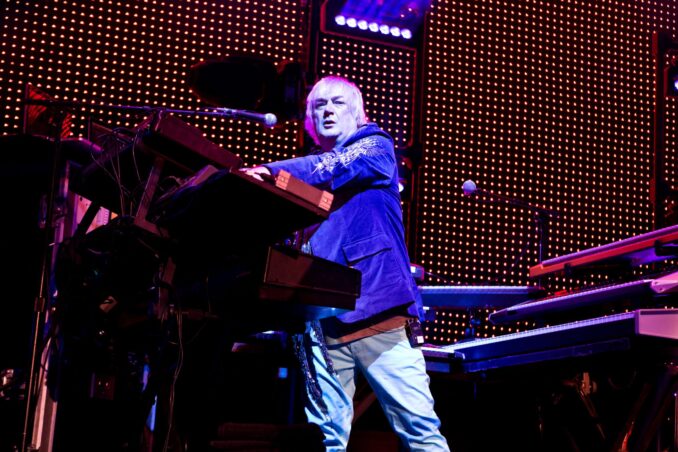 In March you embark on a 10 date UK tour are you looking forward to it?
I am looking forward to it.  It`s been a while since we toured the UK and it`s 50 years since we started as a band so it`s quite a milestone for us and the fact that we`ll be out there and celebrating it on home turf is even better.
The tour is a celebration of 50 years of Yes.  In recent tours you`ve played the likes of Close To The Edge and Drama in their entirety.  How are you going to top that for this tour?
It`s going to be an interesting show.  We`ll be doing a potted history of Yes.  We`ll try to cover as many of the albums as we can and we`ll be doing two sides from Tales From Topographic Oceans too so for Yes fans it`s going to be a monumental show.
Tales from Topographic Oceans is a hugely ambitious and complex piece of music. What challenges did you face bringing that to the stage?
It`s quite a learning curve performing that piece but we did do a fairly extensive tour in The States the year before last so we`ve played it live a fair few times now. It took a lot of work to get on top of it as that particular album was particularly complex even for Yes, maybe not so much in the keyboard department but more so for Jon Anderson and Steve Howe who were at the forefront of their writing partnership at that time.  It`s been interesting to go back and look at that and see how it was all put together.
Machine Messiah from Drama was a real highlight of your set on your last UK tour. Will there be space for it again this time?
There`ll definitely be something off the Drama album and that`s probably the main contender.  It epitomises that version of Yes that Trevor Horn and I were involved in.  It`s almost a pivotal piece that took Yes from being an esoteric band from the `70`s into a more mainstream Rock band into the `80`s.  Even though it`s a 10-minute piece with a lot of changes with different elements I think that was very much a turning point in Yes`s career. It showed that Yes could reinvent itself and do something different while still retaining their signature sound.  I think the other guys felt there was a void when Jon Anderson and Rick Wakemen left, that they had to push me and Trevor who were the new boys, to really give everything and I think that really comes out in that piece.  The performances from everyone on that song are really outstanding.
You have a lot of material to get through.  How long will you play each night?
We`ll be playing for at least 2 hours.  The material from Tales will take up about 40 minutes so we need quite some time to fit everything we want to play into the set. It`s going to be demanding but everyone is up for it.
Yes are renowned for their impressive stage shows.  What do you have lined up for this tour?
When they first took Tales out on tour in `74 or `75  the production was as important as the music in many respects. They had the huge Roger Dean mushrooms with fibreglass things popping up everywhere so it was very much a spectacle. I think that we`ve worked hard on the production to try to recreate that spectacle albeit using modern techniques and technology. I think from the response we`ve had earlier in the tour from the fans, it really does work. 
There`s been many members through the ranks of the band over the years.  Are you planning on any former members making guest appearances over the course of the tour?
Tony Kaye, the original keyboard player, will be joining us on most of the dates this year. When I first got into Yes Tony was one of the guys I really looked up to as he had that gritty Hammond sound and that`s what drew me into Yes on their Time And A Word album, when I was studying for my A-Levels. I have a lot of respect for Tony and what he did in Yes so I`m really looking forward to him being involved not just for what he did in the early period but also when he came back for the 90125 album in the `80`s.  I think Trevor Horn may join us on a few dates and maybe Patrick Moratz, who played on Relayer, might make a few appearances too.  It`s going to make this 50th anniversary tour something a bit special.
You will be playing at The Sage in Gateshead on 18th March.  Is this the first time you`ve played there?
I played in the smaller hall with Asia a few years ago but this will be the first time I`ve played in the larger hall and the first time with Yes.  Usually with Yes, we`ve played at the City Hall going right back into the `70`s.  The Sage is such an impressive building and we`re very much looking forward to playing there.  Alan White is a Geordie and he always enjoys going back up North to play.
Will you be releasing any special products like a boxed set to celebrate your anniversary?
I think something will be coming out on Warners this year that will be a historical view of Yes.  That`ll be a nice release for Yes fans.  They generally try to get everything that comes out so we`ll make sure it`s something really special.
One person who unfortunately won`t be able to celebrate with you is Chris Squire who was an ever-present member until his death 2 years ago. What did Chris mean to you as a musician and on a personal level?
Chris was always a big champion of me and was always pushing me even when I wasn`t in the band he`d call me up and ask if I`d come back one day and I ended up coming back 7 years ago.  He was this great big guy with a great big bass sound.  If you ask any bass player who they were influenced by, Chris would probably be the first name they mentioned.  He was a one off and no one sounded like him.  He was a great guy with a great sense of humour.  Going out socially was great fun too as he had great stories to tell.  I was very sad when he got sick and died.
Was he instrumental in lining up Billy Sherwood as his successor?
Chris was Billy`s hero and certainly from Chris`s point of view there was no way there`d be anybody else other than Billy to fill in for him. When Chris said he was too sick to tour he said Billy could play his parts as well as anybody.  It was intended to be on a temporary basis but unfortunately that didn`t happen and Chris got really sick and passed away. It`s not just Chris`s bass playing either but his vocals were a very integral part of Yes and a lot of people forget about that.  The sound of Jon Anderson and Chris Squire together was the vocal backdrop to a lot of Yes`s music. His contribution to Yes`s music was so much more than just his bass playing and Billy has been incredible in playing those parts and playing them so well and Chris was such a big champion of Billy who learned Chris`s bass parts to the letter.
You first joined in 1980. How did you end up joining Yes?
It was a totally unexpected chain of events that lead to me joining.  We had the same management as Yes at that time. Their keyboard player and vocalist had moved on and I suppose it was a fortuitous encounter for me and Trevor Horn.  Although we both came from a more Pop background in The Buggles we were both musicians at heart and Trevor was a great bass player and The Buggles was very keyboard orientated so to us it wasn`t really that weird but at the same time it was awe inspiring to stand on the stage with these guys who I`d been following from day one.
It raised a few eyebrows at the time with you and Trevor Horn being members of The Buggles.  Did it take you a while to win over some of the older Yes fans at the time?
I think it did but then again maybe I still haven`t won all of them over yet.  The fans have their favourites and Yes fans are particularly intense about their music.  A lot of the older fans still talk about drummer, Bill Bruford, as an iconic figure but he was only in the band for three years before Alan White came in and Alan has now been in the band for 46 years.  I don`t think that`s an unhealthy situation as Yes`s music has brought pleasure to millions of people over the years and different people like different eras of the band. 90125 is still Yes`s best-selling album and that`s very different to the classic Yes style of the `70`s.  If you look at the 50-year history of the band you can see the enormous influence that all of the musicians have brought to the band and have enabled it to survive over that time in an ever-changing business.
Stepping into the shoes of Rick Wakeman must have been a daunting task.  How did you prepare for that?
It was quite daunting as he was a big part of yes, but so was his predecessor Tony Kaye. I thought Tony Kaye was a more gritty down to earth keyboard player but Rick Wakeman was much more ornate and decorous in his style but I think I borrowed a bit from both of them.  When we did Drama, I was very conscious of that Hammond sound but I was also bringing some new sounds in there and new technologies so I was adding some different ingredients into the Yes sound while respecting the past work of my predecessors.  I think a lot of people see the line-up of Anderson, Wakeman, Howe, Squire and White as the classic line-up but that shouldn`t demean the contributions of the other great musicians who`ve put their stamp on the music of Yes.
You recorded one album during your first stint with the band.  How was the experience of writing and recording Drama for you bearing in mind you were the new boy in a long-established group?
Trevor and I had quite a lot of ideas that we were working on at the time.  When they asked us if we had any ideas we put forward what became Fly From Here that, although not used on Drama, actually ended up on an album we did 7 years ago.  We provided ideas and Yes would treat them in a way that only Yes could do and certainly the rhythm section of Chris and Alan changed it greatly and Steve`s guitar work on top made them very different to how they started out. They took essentially Pop ideas and they became Yes-ified.   I Am A Camera that we put forward was drawn out and arrangements were worked on and that eventually became Into The Lens.  It was interesting for me, not just because I was in this big band, but I was looking at it almost from a musicology viewpoint and watching how these guys put their ideas together was a really fascinating experience.
Was it disappointing for you that the band split not long after you`d joined?
It was as I thought we had a lot more to offer.  It was really down to the fact that there was antagonism from the die-hard fans particularly aimed at Trevor as Jon Anderson had been the sole lead singer right from the start and people thought he was the driving force of Yes and some felt that yes should not continue without Jon Anderson.  We were up against that and Trevor faced the backlash from that and that effected Chris particularly as a lot of bringing us in was driven by him.  When I listen back to some of the live recordings it was actually pretty good but at the time it was the climate and that was one of the reasons it didn`t go further at that point.
You continued your successful collaboration going with Steve Howe and formed Asia.  How did Asia end up being put together?
I got together with Steve in Asia and that was a relief after the Yes split.  We had a great understanding of how guitar and keyboards worked together.  Chris and Alan had gone off to work with Jimmy Page in XYZ and Steve was looking for something at the time and John Wetton was hovering around the management`s office at the time and Steve and John got together and started writing some stuff and Steve brought me into it and then Carl Palmer came along and that was really how Asia got together in the first place. So, from being in Yes the previous year we forged on with a new band.
The debut album was No.1 in America for 9 weeks and was the biggest selling album of the year.  Did that success take you by surprise?
It was a very successful time for us. It took us all by surprise really.  We knew we had a pretty good album but we didn`t know it`d snowball and go off the radar like it did.  It was incredible.  We were originally booked to play 1500 to 2000 seater venues but a few weeks later we were playing arenas.  It moved very, very quickly from being just a bunch of guys working together in a studio in London to being top of the charts in America.
Asia went through many changes over the years but the original line up with John Wetton on vocals is the one most people regard as the best.  John sadly passed away recently.  What was it about John that worked so well for you?
I can`t believe it`s been nearly a year since John died.  In terms of our writing partnership we must have written a couple of hundred songs. We really hit it off on that first Asia album and the song writing was very, very easy and was very natural.  We wrote Sole Survivor and Only Time Will Tell happened so naturally.  At the end of the `80`s John move to The States and I carried on with Asia with John Payne and it was really only about 10 years later that we worked together again on the Icon albums and I wrote quite a lot of stuff with him for his solo albums and we made another three or four Asia albums together so from that point onwards we started getting our writing legs back on again.  He was a very talented writer and an excellent musician.
Is that Asia over now or do you still have plans to work together as a group?
We`re still in limbo at the moment.  We had a tour booked last year with Journey which we did with Billy Sherwood.  Billy had worked on John`s last solo album and he was the right person to step in for John and channel John`s style and he did a great job.  It was a very successful tour but the one sad thing was that John wasn`t there to join us.  I think it`d be nice for Asia`s music still to be heard.  I`ve discussed it at great length with Carl and we might make plans to continue at some point.  There`s some great songs there and not just the famous ones. There`s a great weight of good material below the surface so it`d be a shame if they were put in a chest and locked away for good.
As well as Yes you have recently released your third album, Skyscraper Souls, with the Downes Braide Association. How did you first hook up with Chris Braide?
I met him through Trevor Horn.  He was working with Trevor in a project called The Producers.  We did a couple of shows with The Buggles and Trevor brought some musicians along with him and Chris was one of those guys. I got chatting with Chris and he told me The Buggles album was the first album he`d bought and suggested working together.  We got together a couple of months later in L.A and we started writing then.
You must be pleased with the reaction the album has received so far?
I think the new album is the best one of the three and having a real rhythm section on there has really helped.  Also, the guests on there have added another dimension to the songs.  Chris has a great voice in his own right.  It is a very keyboard orientated album but that`s how we both grew up.  It`s a similar approach that I took with The Buggles which was also a duo and based on keyboards and vocals. We`ve had a great response to the album so we`re both very pleased with it.
He has quite a pedigree and has worked with an incredible array of artists from Lana Del Rey, Paloma Faith and Britney Spears winning a Grammy and Ivor Novello awards in the process. How has working with someone like Chris influenced your approach to song writing?
He`s written for so many incredible artists and has such a great commercial ear. The stuff I was putting forward was more in depth and complex.  He`d take that and chuck things back at me and make them more commercial. It was a bit like making Drama but in reverse.
There`s a few interesting guests on the album too including Marc Almond, Katy Pierson from the B-52`s and Andy Partridge from XTC.  Did you work in the studio together or did they add their parts at a later date?
The whole thing was done remotely and even with Chris and myself.  We weren`t in the room together but sent each other ideas all of the time. I suppose it`s like Elton John, where Bernie Taupin would send a bag of lyrics and Elton would work on the songs.  They didn`t sit down in a room and work on them.  It`s a different way of doing things.  With John Wetton, we`d sit in a room together and work on songs and I think both ways have worked well for me.
This is only going to be a studio project though.  Do you hope maybe to do a few one-off shows at some point if you both ever get the time?
We`ve talked about doing a couple of live shows.  We wouldn`t discount the idea.  It`s just getting a run of dates that you can do as just doing one or two dates would be impractical so it`s just getting the time to be able to do it. If someone offered us a nice run of dates we`d look seriously at doing it.
Back to Yes. Are there any plans to record a follow up to Heaven and Earth?
We hope to start working on new songs later in the year. I think that we`ll approach it in a slightly different way this time as I think we didn`t really have the strength of material for an album at that point and I`m not blaming anyone for that.  If we do another album we`ll be conscious that we have great material that`ll be another point in the history of Yes.
With this year being the 50th anniversary of Yes, is that all you will be focussing on or do you have time to squeeze anything else in?
We`ll be spending a lot of time out on the road but we will be fitting in some writing at some point too.  We`ll be in The States in June and July so after that we`ll work on some new Yes material and hopefully will also be able to do something with Asia too in the Autumn.
Interview By Mick Burgess
YES start their 50th Anniversary tour on 13th March at the Colston Hall, Bristol ending o 25th March at The Palladium, London.  See www.yesworld.com for more details.
To coincide with their 50th Anniversary Celebrations at the London Palladium, YES release – FLY FROM HERE – The Return Trip on 25th March. The album features new lead vocals by Trevor Horn and a previously unreleased track – "Don't Take No For An Answer" with Steve Howe on lead vocals. Full info below.
Fly From Here – Return Trip can be pre-ordered via Pledge Music here:   https://yesthedramalineup.pmstores.co/