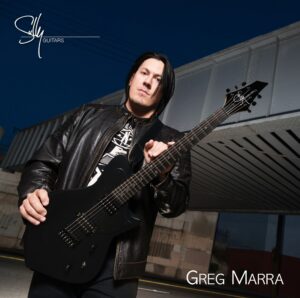 Metal Express Radio`s Jamie Poulos had the privilege of producing a tour with Plenty Heavy, Limitless, and LoNero in August of 2018. Jeff Young (ex-Megadeth) was there to play with Greg and Plenty Heavy on stage to perform "Anarchy in the USA". It was an amazing night and what made it over the top, was to be witness to these talented musicians do exactly what they do best. The video received thousands of views. Greg Marra has a GREAT attitude and he is super passionate about his music.
You were just on tour with Plenty Heavy, Lonero, and Limitless. Can you discuss how you became involved in that show?
We were all at the Baked Potato in North Hollywood seeing the Tony Macalpine and Vinnie Moore show and after several cocktails decided that a tour might be a good idea.
You performed with Jeff Young from Megadeth in Las Vegas on that tour. Do you anticipate more shows or collaboration with him and can you discuss how you met him?
Yes, for sure! Jeff and I will most certainly be working together in the near future. Jeff is a good dude and fantastic musician.
Explain the advantages/disadvantages of promoting your music in Los Angeles?
Los Angeles has been for a long time and still is a pay to play market. It's also a market where working musicians reside as well. You can imagine that scenario being quite expensive with an up and coming band. Having said that, I've met most of the A-list I know in in the Los Angeles music scene.
When can your fans look forward to a new EP?
I'm working with Donnie Dickman, keyboard player from George Lynch's band, and childhood friend, Chris Compton on drums on a new project called Crooked Skies. Everything is finished except for guitar and vocals, so that will come out next and then mid-to-late 2019 you can expect a new Plenty Heavy record.
I see that you are continuing your tour with Plenty Heavy to Arkansas. Is there other dates/cities you are planning on booking and what bands are you traveling/performing with?
The rest of 2019 will be all fly dates. I'll be going to Arkansas in October (2018) and finish up the year in Pennsylvania for some shows.
You have a Podcast. How did you became involved with that project and links.
I wanted to have a forum where I could talk to some of the top musicians that I know in a more detailed and lengthy discussion. The past two years have been amazing and I've had some fantastic guests on this show including the top of the music business's finest.
How did you come up with the name Calimarra Music? I understand that you incorporate some "family" influences into your music. Such as "Jakes Song" with the recording of his first breaths.
It's just a play on words. My dad always said that half of my relatives came from Italy and landed on the East Coast and the other came to the West Coast. Yes, Jake's Song features my son's first breath. It was amazing to capture that!
What is your involvement with NAMM? How long have you been doing that and your duties/function at the show? How did you get involved with that?
I've been attending NAMM for the past 15 years, and have worked the show the past 10 years. The first few years were spent networking and trying to get my foot in the music industry door and each year seems to get more amazing and fun!
If the band had a chance to play anywhere in the world, where would it be? I know you are planning a world tour. How did you became involved with that and what other bands are on the bill and dates? 
I'm making plans now to go to England in 2019 and that has been long on my bucket list as a country I've always wanted to play. For some reason, Plenty Heavy has a huge following in Indonesia. I'm not sure how it happened, but as soon as we released our first song, things went crazy with views, shares, and likes in that country. I know a lot of American rock bands are popular over there, so maybe that has something to do with it.
What does your band think that the most important thing you can do to promote your band? 
You can only do so much on social media. I think the real traction comes from when you travel from city to city. When you shake someone's hand after a show, or sign an autograph, it seems to mean much more and those people will likely follow your band longer than if you just promote it on social media.
What piece of advise would you give to fellow musicians? You had mentioned in previous interview that you advise having a backup or going to college, but if you had to start all over where would you go to "jumpstart" a musical career?
You've gotta do it for the love of music. If you love what you do and hustle, the money will follow. Obviously, "don't give up" is completely overused, but it makes sense as well.
You are originally from Pennsylvania. Can you discuss how being raised there may have influenced your work and who were some of your early influencing bands. 
Pennsylvania is very working class, and you have to work hard to get what you want. I remember countless hours practicing in my room growing up. There are many fantastic musicians that reside in Pennsylvania. I remember when MTV first started music from Def Leppard's High and Dry record was played nearly every hour. They were one of my favorite bands and to this day, I think it's still a fantastic record.
Can you discuss some of your "favorite" guitars and some of the equipment that your band performs with your band has or even equipment you want to have for your band.
I'm currently endorsed by Sully Guitars. I have four of them to date, and it's like the design was made for me even though it's Sully's specification. I can't say enough great things about the playability and tone of Sully's guitars. I FINALLY found my perfect guitar and Sully is such a great dude too. It all makes sense!
Greg has numerous sponsors including: Sully Guitars, Wayne Guitars, Fishman Pickups, Friedman Amps, Xotic Effects, Wampler Pedals, 3rd Power MAG FRAG, Curt Mangan Strings, Strap Tight Strap Locks, Rock-n-Roll Gangster Apparel, Chromacast Gig Bags, Tsunami Cables.
He hasperformed and/or recorded with Paul Gilbert (Racer X, Mr. Big, Solo), Bruce Bouillet (Racer X), Glen Sobel (Alice Cooper), Philip Bynoe (Steve Vai), Andrew Freeman (Last In Line), Bjorn Englen (Malmsteen, MacAlpine), Mike Hansen (Hurricane, George Lynch), Joey Heredia (Steve Lukather, Scott Henderson), Ray Luzier (Korn, David Lee Roth), Jimmy D'Anda (Bullet Boys, Lynch Mob), Billy Sheehan (Whinery Dogs, Mr. Big).
Greg has a website for the latest and greatest of Plenty Heavy! gregmarra.com