FREDDIE NELSON - Shake the Cage -

8.5/10
Summary
FREDDIE NELSON
Shake the Cage
June 23, 2017
Independent
Maxxxwell Carlisle (at) MetalExpressRadio.com
Freddie Nelson, following up on his successful collaboration with Paul Gilbert on United States, brings us a new, well-polished release of Hard Rock blended with elements of Pop and Hair Metal on Shake The Cage. This 11 track collection of Heavy Pop Rock features Nelson on both guitar and vocals. The band is rounded out by Nina Sainato on keyboards, and fellow Paul Gilbert collaborator Thomas Lang on drums.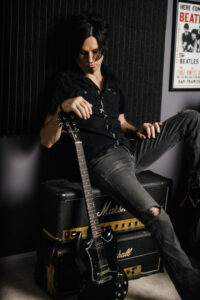 The highlight of Shake The Cage has to be Nelson's superb vocals. This is not to say the rest of album and production is lacking, far from it, but Nelson's crystal clear, pitch perfect delivery leaves little room left in the spotlight. His voice would be right at home singing Boston classics or perhaps the more stratospheric tracks from Triumph. The production of the album is excellent, although varied. A gamut of guitar tones are used, ranging from metal to clean blues. Nicely placed Hammond B3 tones fill out the spectrum nicely while leaving space for the multi-layered vocals. With a high-profile project like United States in his discography, Nelson seems to be well placed to make an impact with his solo work. Fortunately for him, Shake The Cage is an excellent product with which he can represent his solo abilities.
While Shake The Cage may not be the best fit for the hardcore metalhead crowd, any listeners who appreciate the melodic sensibilities of 70s Rock or Blues based Hard Rock with Pop leanings, will be thrilled with these tracks. The songs are overwhelmingly melodic, catchy, and seemingly heartfelt. Considering these songs are from a single songwriter, this is an impressive achievement and places this album on the must-have list of album for fans of solid, guitar driven Rock.