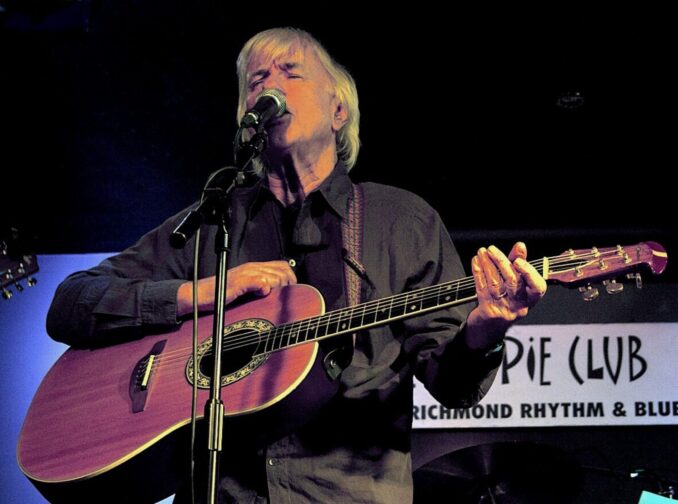 Your latest solo album Walking In the Wild Land has just come out. Are you pleased with the reaction so far?
 I`m very pleased with it.  It`s been a little while coming and has taken about three years. I`ve been working on it off and on in Toronto and I managed to get Terry Brown, the Rush producer, to work on it.  He`s been really good.  It`s more of a Renaissance and Illusion type of sound based around keyboards and I`m very happy with it.
 Most drummers when they put out a solo album like to show off and put their drumming centre stage.  Your album is very different.  It seems as though you wanted to highlight your singer songwriter side more than your drumming?
 It shows another side of my music.  When I got into Illusion which is a band similar to Renaissance, I played acoustic guitar and I sang and the singer songwriter thing has always been a love of mine in parallel with my drumming.  I just wanted to do something more along those lines with my solo record.
 In fact you only play drums on 2 songs and have Ben Riley in playing most of the drums. Why did you decide to bring in an outside drummer to your album?
 I really just wanted to concentrate on the vocals and guitar. The drums were a little bit of an afterthought and it was more percussiony drums that I was after than anything else. It`s not really Rock music that I would have played on so it was more from a percussion angle and I think Ben added some nice touches which I may not have thought of.  It was quite different for me not to have to play the drums.
 This is your third solo album and your first since 2009`s Sitting On The Top of Time almost 10 years ago.  Why the big gap between solo record?
 It`s a matter of getting around to doing it and taking the time needed to get it right and it takes a while for me to get it together as I`m still playing with the Yardbirds.  I`m just about to start a tour of the US tomorrow actually.  It`s been a question of time and if I`d had more time I`d have done it quicker. I suppose it`s a compliment really that I`m so busy.
 Are these all written solely by you or did you have a co-writer to bounce ideas off?
 I wrote all of the songs so that takes time. I actually live down in the South of France and I like walking in nature and getting out into the landscape. I find it very inspiring and I think that comes across in the songs like Dancing Leaves.  People seem to really like that one.
 The album was recorded in Toronto.  Why did you record it there?
 I started off working with a friend of mine Ron Korb who is a flute player from Toronto who I`ve know for a long time.  He suggested that I came to Toronto to do an album together and use musicians that he knew.  Most of the time I`m on tour with the Yardbirds so I`d finish up a tour and go straight up to Toronto.  It`s fairly easy to tour in America and get back up here to work on the record and you don`t get the jet lag.
 You were able to call on a couple of Toronto residents to help you out.  How Alex Lifeson of Rush get involved in your record?
 I know the music scene here and have a lot of friends out here.  Alex is a big fan of the Yardbirds and Rush did covers of Heart Full of Soul and Shape of Things on their Feedback EP a while ago and he also worked with Terry Brown who produced some of the older albums. Terry thought it`d be a good idea to ask him and Alex thought it`d be a great idea to do it.
 Did you work together in the studio on Soft In A Hard Place?
 He recorded his parts in his own studio and sent them over.
 Did you give him an idea of what you wanted from his contribution or did he pretty much get a free hand?
 That`s quite a softish song and he put that hard edge into it which worked well with the song. He basically did what he thought would go with the song and I think it turned out great.  I`m really happy with it.
 Would you like to work with him again in the future?
 Well you never know. We`re going to get together and have a chat and see where it takes us. I don`t know what he`s doing now that Rush is finished and he`ll probably have his own group but I`ll find out when I see him next.
 In keeping with the Rush connection, Terry Brown co-produced and mixed the album.  What did Terry influence the recording process?
 I`ve known Terry for a while but I was recording with George Koller and Tom Reynolds the keyboard player in the studio and I played some of it to Terry and he took them a little further. He said he`d mix it as he had some ideas of what to do.  It was his idea to use the flugel horn on Charmed. He put quite a few touches into it that I really liked.
 There`s is also ANOTHER Rush connection on your album with Hugh Syme adding keyboards and orchestration to Changing Times, Dancing Leaves and So Many Questions.  What you were looking for from him?
 It was Terry`s idea as I wanted some string parts and he said Hugh was very good at that. Hugh is actually an artist rather than a professional musician and he did a great job. I wanted something quite subtle and he did it just the way that I wanted. Hugh is English and he brought a real English feel to it.
 Do you have any plans to tour with your solo band?
 I`d love to.  I`m doing more and more solo things but the demand is for the Yardbirds and people don`t really know what to expect from me as a solo artist so it`s difficult for me to get a crowd but I`ve done a few gigs lately and they`ve gone really well so I would like to do some more.
 Going right back to the start.  When did you first start playing the drums?
 When I was young I was in the Boys Brigade bugle band playing the snare drum.  I then started listening to Buddy Holly, Elvis and Johnny Cash. We had a little school group and I remember buying a cheap drum kit for about £11.00. Paul Samwell Smith was in my school too and was in the group.  We left school and then bumped into each other again sometime later and he played me some R&B stuff by Jimmy Reed at The Carnegie Hall which is an old Blues classic and we used to go and see the Rolling Stones and were hearing all this great music.  That`s what really started me off.
 Who were the drummers who inspired you to start playing?
 I used to like the Jazz drummers like Buddy Rich, Art Blakey, Joe Morello and Dave Brubeck, I liked him.  Of course, I liked Ginger Baker and Keith Moon.  They were great Rock drummers.  There were lots of drummers I liked, JD Fontana of course, he was another one.
 Were your parents supportive of your dreams of becoming a professional drummer?
 They were quite supportive. When I saw a little kit that included a snare drum, a bass drum and hi-hat it cost £11.00 and my Dad leant me the money and back then it was quite a lot of money. I think he was quite proud that I could play the drums.  It was difficult to play it in the house but we used to rehearse in a school friend`s house and his parents didn`t seem to mind.
 How did The Yardbirds first get together?
 We used to go to a pub in Kingston in Surrey and hang out there.  There was a band there that included Keith Relf as a singer and we all got together with Top Topham and Chris Dreja and we started playing around the area.  We had an audition with Giorgio Gomelsky who used to run the Crawdaddy Club in Richmond and we played shows there after the Rolling Stones had played. It really took off from there.  I was actually working in a stockbrokers at the time, training to be an actuary, while playing all of these shows.  It just got so busy playing the shows I had to give my job up.
 Why did Top Topham leave at such an early stage?
 He was very young.  He was younger than the rest of us.  His father was an artist and he wanted Top to carry on his art studies.  He didn`t like Top staying up all night playing, he wanted him to concentrate on his studies so he had to leave and that when we got Eric Clapton in.
 Getting Eric Clapton into replace Top Topham wasn`t such a bad move.  Did you know Eric at the time or did he apply for an audition?
 He came for an audition but Keith and Chris already knew him from Kingston Art School.  He had a bit of a reputation and he was happy to join the band. He had this thing about him and he could play pretty well. He wasn`t a fantastic player but he could play well. He had this aura about him and was cocky with it, so he had this star quality even back then. He was one of those people who you knew would make it big sometime.
 Again, you had the Midas Touch in finding incredible guitarists when Jeff Beck replaced Eric Clapton in 1965.  What happened with Eric at that point?
 Eric left because we were looking for a hit record.  We were all about hit singles back in those days.  We tried some of our Bluesier songs as singles but they didn`t really work and then someone came to us with a demo for For Your Love. A publisher had seen us playing on The Beatles Christmas show and he took it to Giorgio who was our manager then and we all thought it was good.  It wasn`t a Blues song, it was an unusual song.  Eric didn`t think it was right for us.  He also didn`t really get on with some of the other members of the band and that was the last straw for him, doing something more commercial like that.
 Jeff Beck is a very versatile player and can turn his hand to most styles. Did you feel with Jeff in the band you could spread your wings wider musically?
 Yes, definitely.  He could do the Blues but he liked all sorts of music and he just had it.  He had the fuzz box and wah wah pedal and he loved all of that stuff.  He really suited what we were about with all of the Blues and Psychedelic stuff.
Having Jimmy page and Jeff Beck together, albeit briefly, must have been incredible. How was it for you in the middle of all that seeing them both playing together?
 It was great and very exciting but it didn`t always sound that good as they were always competing with each other and ended up sounding a bit of a mess but when it did work it sounded fantastic.
 Within 6 months however Jeff Beck was fired.  What happened there?
 It was too much in the end for Jeff.  He was a very nervous, uptight sort of guy and if things didn`t go right for him he`d get upset and I think he didn`t like toeing the line within a group.  He was much happier being a solo performer and calling all the shots in his own band.  He just disappeared from a tour and we did the whole tour without him.  By that time, we had Jimmy Page in the band. He`d come in on bass at first to replace Paul Samwell Smith and he`d actually recommended Jeff before as he didn`t want to join us when Eric left.  He was happy to join later on bass then he swapped with Chris and for a while we had Jimmy and Jeff on guitar.  Then we had the thing with Jeff when he deserted us and he more or less got the push and we found we could work as a four-piece.  Jimmy was very business like and it worked well until we ran out of ideas.  We were touring the whole time and trying to produce hit singles.  We were working with Mickie Most on some horrible songs trying to get hit singles and it didn`t really work and Keith and I decided to leave.
 Did you worry about your future when the band split or did you have a good idea what you`d do next?
 I just wanted to do something different and something a bit softer as we`d been Rock `n` Rolling night after night for years so me and Keith got John Hawken to come in on piano and Louis Cennamo on bass.  John started playing some classical music and we thought it sounded good and we thought it`d be great to bring that into our music and that became the trademark of Renaissance.
 When Jimmy formed a new band called The New Yardbirds, how did you feel about that?
 We weren`t really interested anymore at that point.  Maybe later we thought we might have made a big mistake but on the other hand we didn`t want to do that anymore and had, had enough of it so weren`t really that bothered.
 What did you think when you first heard them when they became Led Zeppelin?
 I really liked them especially their first album. It was similar to what we were doing but they had that extra touch and were very well produced.  There were some really good songs on it and don`t forget the timing was just right where they were at the cusp where albums took over from singles.  They were all great musicians and I thought they would do well.
 You`ve had a few reunions over the years particularly with Chris Dreja and at times with Top Topham and Paul Samwell-Smith.  How did those go?
 I was in a little Blues band that played at the Tavern Inn in Shepherd`s Bush and that was always fun in the late `80`s and `90`s and that built up a following and Top Topham was involved in that and we had to bring some Yardbirds stuff into it.  Chris Dreja then got involved and it the agent Peter Barton put it together and he was doing something with The Animals and asked if we wanted to reform the Yardbirds to do some festivals and maybe tour with The Animals which we did. It went from there and it was great fun.
You recorded Birdland in 2003, 36 years after your previous album, Little Games in 1967.  How did it feel recording together again after so long?
 It felt great.  It was quite hard work as we were in Hollywood and did it bit by bit as we were playing all around that area as well. It was a lot of fun because we had other guitar players coming down from Slash, Brian May contributing to it and Steve Vai came down and Jeff Baxter, Steve Lukather and Joe Satriani so it was great fun working with them.  We did a few gigs to promote it too with Steve Vai playing with us.  It was a lot of fun.
 Did the constant changes to the line up over the years frustrate you or did you feel the new blood helped you grow musically and stop you getting stale?
 The band went different ways with different people.  It`s a strange thing that people come and go but I think the changes brought a slightly different feel each time it happened.  At the moment the band is American and John Idan is back from the Birdland days and he`s very good.  The American guys have a real knack for the music and it`s sounding really good at the moment.  The guys now have played these songs in their earlier bands and they were big fans of the Yardbirds so it`s in their blood.
 Would you like to do one last big show with the surviving members of the `60`s line up with Jimmy, Eric and Jeff all together?
 Oh yes definitely.  We`ve often talked about it over the years but it`s getting the energy into doing it and it`s never really happened. It hasn`t quite clicked but of course I`d be up for that.  It`d be great fun to do that.
 So many bands from Rush, Aerosmith, Rainbow.  Virtually all of the Hard Rock bands that came through the `70`s and 80`s owe a debt to you.  How do you feel when you hear so many bands hail you as their major influence?
 It`s great to hear that we`ve influenced so many great bands.  It`s very gratifying.  It seems to get better as we go on.  When I hear that Steve Vai, Little Steven and Alice Cooper said we were big influences on them it`s very nice for me to hear that.
 Looking back on your career, which moment stands out as your proudest moment?
 It was great getting into the Hall of Fame in 1992.  That was great to be finally honoured as I think we were always a bit underrated and finally the light was shone on us. It`s been a bit of a roller coaster along the way but I wouldn`t have been without any of those things.
 What about the future?  Will you be focussing on your solo work or will you also have time to tour and record with the latest incarnation of The Yardbirds?
 We nearly got to record a new album last year but we didn`t quite have the right material.  Maybe if something clicks and it all comes together then we do hope to have a new record out at some point soon.
 Do you have any plans to tour the UK?
 I`d love to.  The fact that most of the band is American puts a cost on it but I`d love to do it.  The last time we did it was with Top Topham and the young guys and we`ve also played with The Zombies and The Animals but I`d certainly like to come back over again and play some shows. I think the time is right for another tour.
 Jim McCarty`s new album Walking In The Wild Land is out now.
See www.jamesmccarty.com for more information
 Interview By Mick Burgess
Photos By Trevor Heath and Arnie Goodman