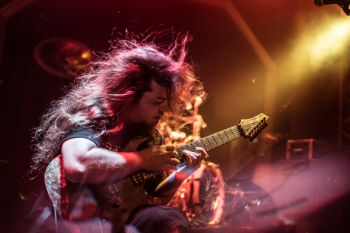 Guitarist Dustin Behm picked up the guitar at the age of 13 and later attended the Guitar Institute of Technology at the Musician's Institute in Los Angeles where he studied with world renowned guitarists such as Paul Gilbert, Scott Henderson, Greg Harrison and tapping master TJ Helmerich.
Dustin's debut album The Beyond hit North America on January 19th via Rockshots Records after being unleashed in Europe this past November. The Beyond was inspired musically by early 90's progressive death metal such as Spheres era Pestilence combined with modern metal influences Meshuggah,  Allan Holdsworth and Chris Poland's Return to Metalopolis. Other inspirations for this debut were Behm's simple love for classic horror movies, especially European horror of the 70's and 80's that can be seen in the album artwork, skillfully painted by Mark Cooper. The artwork represents figures from a series of nightmares Behm had as a child (of which Mark was unaware when he painted the piece).
After Dustin's playlist we'll spin some tracks of his debut album!
While you wait check out a track from Dustin's album: