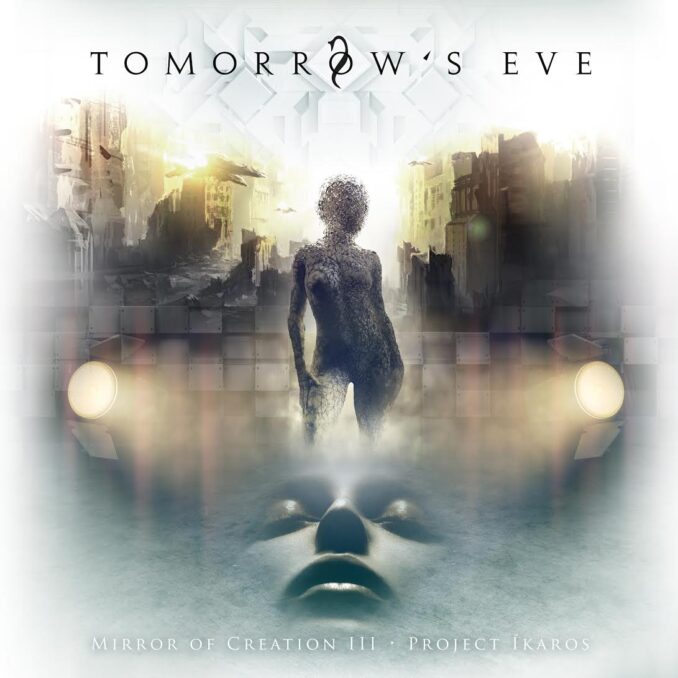 TOMORROW'S EVE - Mirror Of Creation III - Project Ikaros -

6.5/10
Summary
TOMORROW'S EVE
Mirror Of Creation III – Project Ikaros
May 7, 2018
Baze Records
Maxxxwell Carlisle (at) MetalExpressRadio.com
Fans of Dream Theater, current Symphony X, Octavision, and other modern Progressive Melodic Metal bands will absolutely love Mirror Of Creation III – Project Ikaros, the latest release and concept album, from German act Tomorrow's Eve. While the band has gone through an expected and welcome evolution over the years, this release finds Tomorrow's Eve deep into Progressive Power Metal territory on tracks like " Welcome To The Show" and "Bread And Circuses", while occasionally venturing into more darkly Gothic material with "The System" and "Somnium Ex Machina". Overall, the album remains aggressive and up-tempo, without crossing the line into Speed Metal or Extreme Power Metal.
Several of the songs make nice use of synths and orchestral parts, but this is done in a way as to not soften the songs, instead adding a complexity and more detailed nature to the mixes and arrangements. As they are, the mixes are rich, deep, and sonically brilliant, but this should be expected from a technically proficient, seasoned band like this.
As good as Mirror Of Creation III – Project Ikaros is, Tomorrow's Eve will still be fighting an uphill battle to distinguish themselves in a genre that has so many quality bands. For existing fans, concept albums like this are usually well received, but to really grow their audience, Tomorrow's Eve will need to put out that killer, in-your-face, memorable single, and this album just doesn't seem to have it. This is a stereotypical case of the bar being set extremely high when it comes to songwriting and musicianship, and although the gang from Tomorrow's Eve won't find themselves outclassed, they won't find an easy victory in the battle for the throne of Progressive Metal.
TUNE INTO METALEXPRESSRADIO.COM at NOON & MIDNIGHT (EST) / 6:00 & 18:00 (CET) TO HEAR THE BEST TRACKS FROM THIS UP-COMING RELEASE!!!