I was born in Wroclaw, the largest city of south-western Poland, have spent quite a while working and studying in the UK (South West of England and South Wales), currently living in northern Germany – so I consider myself European! I speak quite a few languages and if you tell me your exact date of birth, I will only need a few seconds to work out what day of week you were born – true story.
I am a writer. Writing has always been my passion (surprise?) and writing about music is almost as exciting as composing.
I have a wide range of interests: oceanography, marine biology, paleontology, geography, football (until it became all about money), transport and anything that is weird – because if it's not weird, then it's likely to be boring.
And there is one more thing that needs to be mentioned here: music. My top 25 bands are:
The Beatles
Deep Purple
Black Sabbath
Queen
Iron Maiden (first three albums!)
Judas Priest
]v[ E G A D E T ]-[
Exodus
Overkill
Lamb of God
KISS
Twisted Sister
Mötley Crüe
Alice Cooper
Van Halen
Death
Scorpions
The Who
Pink Floyd
Running Wild
ABBA
Rainbow
Accept
Aria (Russia)
King Diamond
Besides, I also play bass and have been a part of various bands; here are some of them:
Rager (2011-2012) thrash from the south west of the UK – https://www.youtube.com/watch?v=1sa8MBk0sUI – about 5 years after our split-up we were mentioned in "Contract in Blood: A Story Of UK Thrash Metal" (Glasper, I., 2018), so we can say that we have our place in history.
Medusa (2013-2016) punk and glam influenced rock from London – https://www.youtube.com/watch?v=PfHqTBlhmw8 – I appeared on the band's 2014 album "Headcase's Handbook," where except bass I also played harmonica on one song. I may record the next album with the band, despite not being listed as a full-time member.
Firth of Drangiss (2018- present) power metal from Kiel/Flensburg, Germany – https://www.youtube.com/watch?v=JOpCIkyhVCk – the band I'm currently in, we did play some fairly big events last year and more exciting stuff is to come!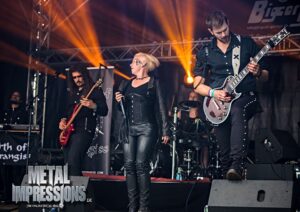 Firth of Drangiss live at Baltic Open Air 2018; we are a 6 piece band, but sadly one of us was out of shot.