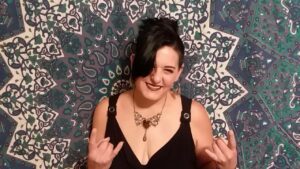 Hey There Metalheads!
I grew up listening to music of all kinds. At my mom's, the music would be more pop-rock and mainstream, even a little Elvis. I loved watching American Bandstand. I was familiar with Shawn Cassidy, The Bee Gees, and The Monkeys. My Dad would favor Fleetwood Mac, Cat Stevens, CCR, Led Zepplin, AeroSmith, Rolling Stones, and a lot of old country like Don Williams. My Grandpa always had classical and big band era music playing on vinyl. When I was in high school, I danced to DEVO, Thompson Twins, U2, Madonna, and Oingo Boingo. My little sisters rocked Metallica, AC/DC, Judas Priest, and Iron Maiden.
I went to the University of Utah for Accounting. Afterwards, I moved to Sioux City, IA and my musical interests turned to Stevie Ray Vaughan, Robert Cray, Jonny Lang, and Kenny Wayne Shepherd.
In 2013, I joined a local rock band. I was lead and back up vocals for the small cover band in Evanston, Wy. They wanted to have a show out of town, so, I started networking with promoters in Salt Lake City, Utah. I decided to have a Battle of the Bands in Rock Springs, Wy, where I had a local metal band perform in the show. Their performance instantly motivated me to become an Underground Metal Band Promoter.
I host shows with Metal bands from all over the U.S. and overseas. It is my strong comradery for these bands, and the passion that they perform with, that inspires me to believe their music MUST be heard! I attend nearly every show I book, practice sessions, review new songs, and get to know these amazing musicians. I only wish that local media, radio and TV, would give these talented groups the advertising that they truly deserve.
I spend every minute I have left from working full time and promoting my shows with my family.
Among some of my favorite "known" albums are:
Jinjer – King Of Everything
Metallica – Metallica 1991
American Head Charge – Tango Umbrella
SixxAM – Prayers For The Damned
Megadeath – Countdown To Extinction
Five Finger Death Punch – American Capitalist
Avatar – Feathers And Flesh
Volbeat – Seal The Deal & Let's Boogie
Motograter – Desolation
Judas Priest – British Steel
I encourage all to support your local musicians! Go to shows, buy merch, spread their music!
Much Love, Miss Jaime