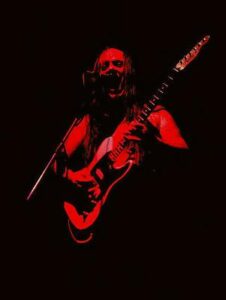 As an audio engineer and a graphic designer, I am excited to be a part of the Metal Express Radio team, and to bring my talents to a great station. From the day I purchased my first album (Machine Head by Deep Purple), I have had a passion for heavy music, which has influenced my whole life. I am from the great Pacific Northwest, and have played in metal bands like Babylon, Holy Terror, The Wild Dogs, Warhead and Egypt through the 80s. I had my first interview for our Portland, Oregon publication The Rock Rag with guitarist Paul Gilbert in his Racer X days. Then I was honored to get to have drinks, and talk for an hour with the legendary Dan McCafferty of Nazareth for my second interview. In 2013, I spent an amazing hour talking to Andi Deris of Helloween, which was the high point of my heavy metal journalism.
In the year 2001, I formed Man in Black Music Publishing. We released recordings by several local bands, and in the spirit of the old Metal Massacre compilations, I created a 2-album series called The Defenders of Metal. The albums featured classic styled metal bands from all around the world, with bands from Australia to England, and from Argentina to Russia. Currently, I am the producer/creator/vocalist of the metal band: The Black Tuesdays.
Metal music is my art, and my life.
Some of my favorites
2017
Helloween – Pumpkins United
Sons of Apollo – Psychotic Symphony
2016
Death Angel – The Evil Divide
Megadeth – Dystopia
Black Sabbath – The End
Fates Warning – Theories of Flight
Soto – Divak
2015
Helloween – God Given Right
Saxon – Battering Ram