WHITE WIZZARD - Infernal Overdrive -

6.5/10
Summary
WHITE WIZZARD
Infernal Overdrive
January 19, 2018
Napalm Records
Maxxxwell Carlisle (at) MetalExpressRadio.com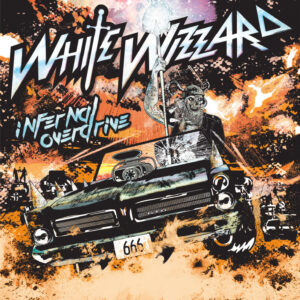 The new album from the Los Angeles based Traditional Heavy Metal act White Wizzard is another solid feather in their cap despite the band's ongoing lineup changes and unstable history. Infernal Overdrive has a very straight-forward and no-nonsense approach to its songs which is sure to please existing fans of the band and will give a fresh opportunity to Traditional Metal Fans that have yet to be exposed to White Wizzard's sound.
With a blend of influences like RIOT, Iron Maiden, and Grim Reaper, this release is in keeping with much of the band's previous material, and while there is a change in the lead vocalist, it is through the return of Wyatt Anderson who has entered and exited the band several times over the last ten years. Despite the unpredictability, his voice has become a staple of the White Wizzard sound. It's notable that there are several tracks that feature a more Celtic / Gary Moore vibe, specifically "Pretty May" and "Chasing Dragons". This breaks up the album nicely, while still keeping things sounding cohesive and familiar.
Strikes against this album are mostly centered around its derivative nature and also a lack of low end frequencies in the mix (odd for a band that was founded by a bassist). Considering that this band has never really found large-scale success and it has had more than its fair share of drama over the years, one has to wonder how many more White Wizzard albums are in the cards. For now though, we can enjoy the safe, metal familiarity of Infernal Overdrive.
TUNE INTO METALEXPRESSRADIO.COM at NOON & MIDNIGHT (EST) / 6:00 & 18:00 (CET) TO HEAR THE BEST TRACKS FROM THIS UP-COMING RELEASE!!!