SAVAGE MACHINE - Abandon Earth -

4.5/10
Summary
SAVAGE MACHINE
Abandon Earth
January 26, 2018
Independent
Maxxxwell Carlisle (at) MetalExpressRadio.com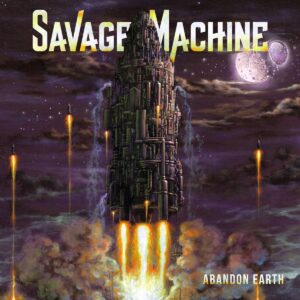 Following a sparse output with only an EP and one single, Denmark's Savage Machine has finally unleashed their first full length album. Abandon Earth is a sci-fi concept album featuring a post-apocalyptic story line and strong Classic Power Metal influences like early Helloween, RIOT, and Pretty Maids. Troels Rasmussen's vocals have a Graham Bonnet vibe to them; a slight shouting quality if you will, while still maintaining the strong melodic sensibility that the genre demands. Savage Machine have clearly been woodshedding their songs, as the band makes some pleasant departures from standard, formulaic metal song structures. Dream Theater and Dragonforce fans rejoice! The majority of Abandon Earth's tracks clock in at over five minutes with two of them approaching eight minutes!
Given that the song-writing is so solid on this album, it's a massive shame that the production does not meet the same standard. The album overall has a noticeably over-focused mid-range, with very little bottom end and an equally lacking air on the highs. The mix is also, at times, inconsistent from track to track, despite no changes in the instrumentation or song style. Key components like the vocals and snare drum are over EQ'd leading to significant ear fatigue in the listener. As good as the songs and individual performances are, it's not enough to overcome the failure of the production quality.
TUNE INTO METALEXPRESSRADIO.COM at NOON & MIDNIGHT (EST) / 6:00 & 18:00 (CET) TO HEAR THE BEST TRACKS FROM THIS UP-COMING RELEASE!!!