JUDAS PRIEST - Firepower
JUDAS PRIEST - Firepower -

8.5/10
Summary
JUDAS PRIEST
Firepower
Epic Records
March 9, 2018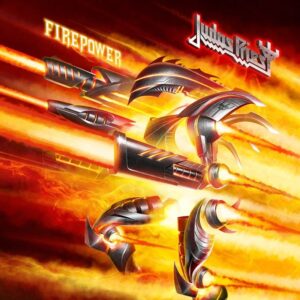 With the exit of KK Downing several years ago and the disheartening news regarding Glenn Tipton's health, Judas Priest have taken a few shots to the chin in the last decade … if anything demonstrating the cold reality that The Metal Gods are indeed "mortal".  However, Judas Priest didn't have the "Metal Gods" moniker bestowed on them by happenstance or default … no, they earned it by bludgeoning the earth time after time with creative, articulate, catchy, powerful Metal that stands the tests of time and has touched and inspired millions of fans throughout the world.  And now in 2018, the Priest is back with their 18th studio album entitled Firepower, dual-produced by Tom Allom — the man who helped the band knock out some of their most notable material — and Andy Sneap, an award winning producer in his own right, but newcomer to the Judas Priest production chair (and Glenn Tipton's replacement for the Firepower tour).
So with all new news and drive for perseverance in the mix, much anticipation and speculation from Metal lands far and wide has been building to see what the Metal Gods were capable of knocking out this time around.  Would the band revisit and re-churn successes from the past?  Or would the Priest find that new formula which will propel Metal into the next decade and beyond?
Well, the answer lies somewhere in the middle.  The production quality of the album is outstanding, with Allom and Sneap helping the band create a thick, heavy soundscape.  Subject to only a few exceptions within the 14 tracks on Firepower, the songs are mid-tempo rockers with memorable riffs, solid solos, and strong lyrical melodies.  Most notably, Rob Halford did an excellent job composing the lyrics … the rhythmic meter of the verses fits well into the musical patterns, and despite the near Doom Metal feel to a number of the tracks, the choruses by and large are quite catchy and innovative.
Arguably, Firepower can be considered the best and most "complete" studio album released since the band reunited with Halford.  All tracks have purpose and something "special" to offer Metal fans … there are no fillers or obvious throw-aways.  The band took the better part of 4 years to release a follow-up to Redeemer Of Souls … they certainly took their time, and as the cliché goes, "good things come to those who wait".  Overall, Firepower contains plenty to satiate the appetite of Traditional Metal fans … it's a "must buy", likely the band's swan song, and a release that fans undoubtedly will embrace and support.