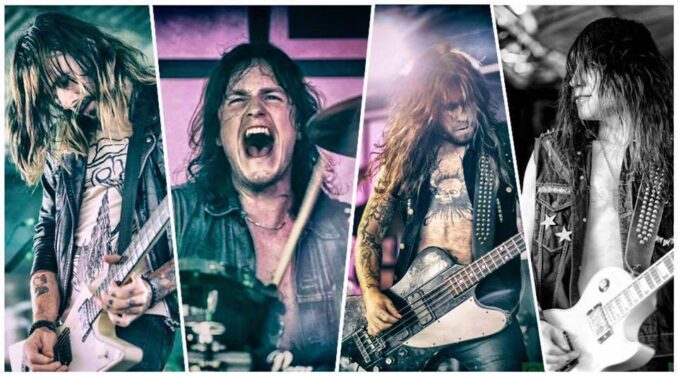 SHOUT just released their debut album "People of the Night". The album is described as an instant ROCK'N'ROLL EXPLOSION! We are happy to give away signed LP and CD versions of their album! To enter the competition simply answer this simple question: what is the name of Shout's record label? E-mail the answer along with your name and home address to metalexpress@gmail.com. The winners will be announced and contacted early next week.
Kriss and Danny played with "The Scams", hitting the road all over Sweden and Europe for more than ten years. Kriss played the bass, head banging through the shows and through the afterparties until the sun came up. Danny was the singer and played the guitar until it was blazing, and got the party started.  Rob had been playing guitar and doing crazy shit with his former band "Danger" touring Sweden and Europe and had no plans slowing down – then he joined what was to become SHOUT. Ol' Hurricane started out as a farmer boy. He learned to play the drums in a basement, and later moved to the city where he met Kriss, Danny and Rob. And what they all brought to the table, in their own styles, became an instant Rock 'N' Roll explosion!
What SHOUT most of all stands for is…"the celebration of all the people that live for rock!"
Do not miss this week's show hosted by SHOUT!
Tune in at 15:00 and 21:00 CET/ 9:00 a.m. and 3:00 p.m. EST this Friday to hear the show!
While you wait check out the  video for "Scream Shout" :