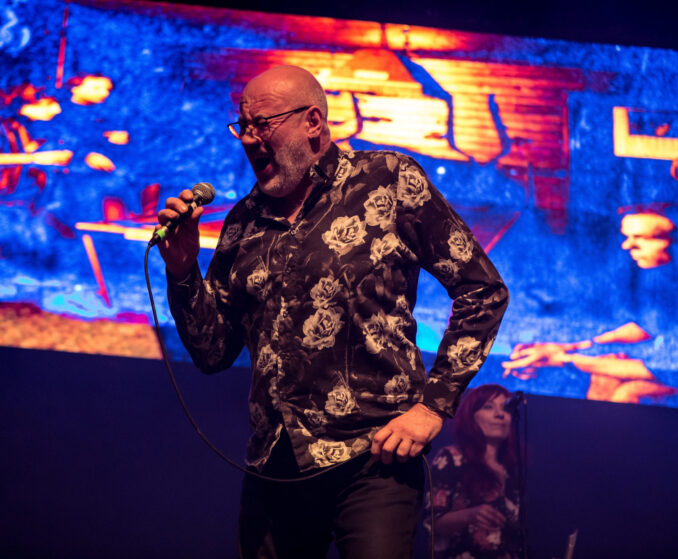 It`s been over 30 years since Fish left Marillion after which both parties went their own ways and forged successful careers in their own right.
As Fish nears retirement it`s time for loose ends to be tied up.  A tour a couple of years back to celebrate the anniversary of the seminal Misplaced Childhood album, a Number One record containing the huge hit Kayleigh, was a huge success. Fish returns to the road in part looking back and in another looking forward with his latest tour based around his final album for Marillion, Clutching At Straws and songs from his forthcoming Weltschmerz record.
Rather than do the predictable run through the full album in its original order like most do these days Fish took a slightly different route opening with Slainte Mhath, which in all honesty is a more natural opener than Hotel Hobbies from the original album.
Man With A Stick from Weltschmerz album, with Fish armed with a walking stick, quickly followed with its rhythmical percussion seamlessly linking with Hotel Hobbies and Warm Wet Circle from Clutching At Straws and although different musically the quality has remained undiminished despite being separated by three decades.
Ever the captivating raconteur, Fish regaled the fans with tales about aging with his drug of choice now Ibuprofen and the only dealers he sees bring him pumpkin seeds.
While Slayer may well have fierce circle pits, Fish conducted a hearty waltz during the C Song and the crowd duly responded with "a fine melee of waltz`s" setting the bar high for the crowds elsewhere on the tour.
White Russian and The Last Straw saw Fish at his animated, dramatic best, getting lost in the twists and turns of the story while another new song Waverley Steps was raw and desolate but captivating in its delivery.  Such a beautiful song.
Throwing in a couple of B-Sides including Tux On for good measure Fish brought the well-balanced set of old, new and rare to an emphatic close with the rabble rousing Incommunicado.an Hotel Hobbies from the original album.
Review and Photos By Mick Burgess