ÖBLIVÏON - Resilience -

9.5/10
Summary
ÖBLIVÏON
Resilience
February 25, 2018
ROAR / Rock of Angels Records
Maxxxwell Carlisle (at) MetalExpressRadio.com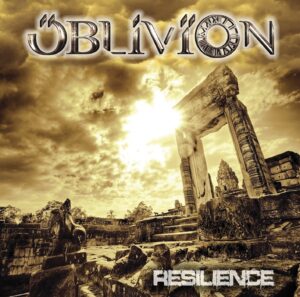 Although Öblivïon is a new band, and doesn't exactly contain any household metal names, the French group is already being labeled as a Power Metal "dream team", and justifiably so. Resilience is a strikingly consistent and remarkably powerful debut album. The power of Jo Amore's voice combined with the certifiable shred skills of Flo Lagoutte have pushed this album high above the sea of stereotypical Power Metal releases to take a place as a possible instant classic of the genre.
While the album contains of all of the musical elements one would expect in a Power Metal release: double kick drums, choirs, orchestral arrangements, blistering guitar solos, and fantastical lyrics, these elements are used so tastefully that Resilience maintains a level of aggression, rawness, and sophistication that is rarely found on any release, let alone dwarf and dragon influenced Power Metal releases. This is the kind of album that you want to tell other people about. From the opening, face-smashing attack of "Honor and Glory" to the glorious and triumphant "Shine In My Galaxy", Resilience fires on all 12 cylinders. The chorus on "The Race Is On" is the perfect fist-raising, shout-along battle cry. The following (and album closing) track, "Dreamers Believers" is a classic Power Metal ballad that will leave you misty eyed as the album draws to an end.
When it's all said and done, Resilience is an incredibly strong first effort from Öblivïon and will set up the band nicely for a well deserved place in the euro festival ranks.
TUNE INTO METALEXPRESSRADIO.COM at NOON & MIDNIGHT (EST) / 6:00 & 18:00 (CET) TO HEAR THE BEST TRACKS FROM THIS UP-COMING RELEASE!!!