THE DARK ELEMENT - The Dark Element -

8.5/10
Summary
THE DARK ELEMENT
The Dark Element
November 10, 2017
Frontiers Music
Maxxxwell Carlisle (at) MetalExpressRadio.com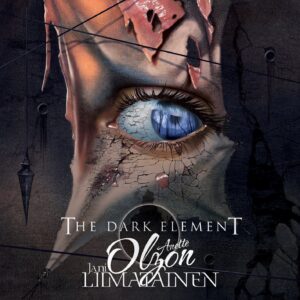 Marking the metal oriented return of former Nightwish vocalist Anette Olzon, The Dark Element is a well-produced debut album carefully calculated to appeal to female-fronted Power Metal fans. All of the ingredients that the genre demands are well represented here. Lush, layered choruses, melodic vocal lines, subtle keyboard pads and synth elements, and classic Power Metal drum and guitar work, all come together nicely to make this release a listenable and enjoyable Melodic Power Metal debut.
Featuring accessible song structures and a sound that leans to the heavier side of Melodic Power Metal, The Dark Element has a number of standout tracks like "The Ghost And The Reaper", and "Dead To Me". There are also some more synth leaning tracks which are not dissimilar to the style of Battle Beast or Beast In Black. This style is very noticeable on the opening track "The Dark Element" and the mid-album "Halo".
Overall, this is an excellently produced debut Power Metal release that draws from the most successful and popular, current female-fronted metal acts. If there's anything negative about the release, it could simply be that the formulaic strategy is so carefully followed that it could seem lacking in passion and genuine enthusiasm. There is also the strong melodic element which may not be embraced by fans of heavier styles. However, all things considered, this is a difficult album to find fault with, and could serve as a not-so-guilty pleasure for even the most elitist Progressive Thrash fans.
TUNE INTO METALEXPRESSRADIO.COM at NOON & MIDNIGHT (EST) / 6:00 & 18:00 (CET) TO HEAR THE BEST TRACKS FROM THIS UP-COMING RELEASE!!!