TASTE-Moral Decay -

6/10
Summary
TASTE
Moral Decay
AOR Heaven
August 31, 2018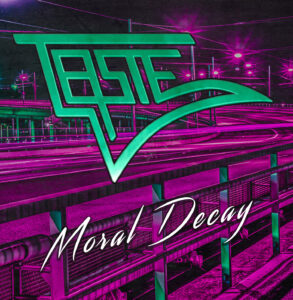 The Borg (Christoffer and Felix) return with their second Taste album, Moral Decay, following 2013's self-titled debut. Not to be confused with the Rory Gallagher led Heavy Blues Rock band of the same name, Sweden's Taste revels in the clean keyboard and guitar driven AOR Melodic Rock sound of the eighties. The brothers Borg play all the instruments on the album, which was mixed by Christoffer and mastered by the increasingly ubiquitous Jacob Hansen. Christoffer handles all the vocals as well on an album that features layers of vocal harmony; he's clearly talented on both sides of the mixing board. The thirteen songs are a faithful reproduction of the eighties Melodic Rock sound, with some climbing, note-perfect, clean guitar solos interspersed among the keyboard fills and singalong choruses.
The songs are well-crafted, though the sound of Moral Decay is very much that of a studio project. Occasionally a track rises up from the susurrus of standard AOR fare to find a song with a bit of spirit and passion; "Rainbow Warrior" generates some heat, and "My Own Worst Enemy" brings the fire, but most of the songs on Moral Decay have the chill of excessive studio production. Then again, the eighties album bins were filled with Melodic Rock offerings that adopted a heavily produced stance, so if anything Taste renders a faithful reproduction of that sound—"We Are Back" could be a track off a Scorpions album from the late eighties/early nineties and no one would blink an eye.
TUNE INTO METALEXPRESSRADIO.COM at NOON & MIDNIGHT (EST) / 6:00 & 18:00 (CET) TO HEAR THE BEST TRACKS FROM THIS UP-COMING RELEASE!!!