VULTURE – The Guillotine -

6.0/10
Summary
VULTURE
The Guillotine
High Roller Records
August 25, 2017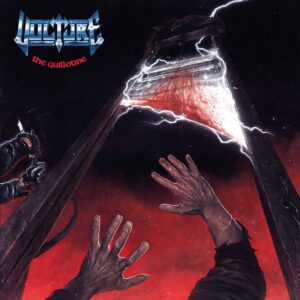 Self-described as HIGH! SPEED! METAL! The Guillotine from Germany's Vulture delivers as advertised.  The twin guitar attack of the band rarely deviates from an amphetimized Judas Priest style onslaught.  While the vocals immediately bring to mind King Diamond, the band shares most of their DNA with Exciter, Celtic Frost, and Cirith Ungol.  The mixing and production of the album is professional.  The bass, vocals, guitars, drums are all clearly discernable and well-powered with the exception of a weak bass drum.  The guitarists and vocalist are aggressive, spirited, and respectable.  The drumming, however, is distractingly repetitious and unimaginative.  Virtually every song features the snare drum banging the same metronomic pace and repeating the same descending tom-tom fills.
Perhaps the band's one dimensional approach to songwriting doesn't leave the drummer much room to maneuver.  The first five songs of The Guillotine fall squarely in the band's Speed Metal comfort zone.  The opening two tracks "Vendetta" and "Clashing Iron" are highlights featuring frantic guitar work and superb vocals which are as indecipherable as a demon wailing and screaming.  Vulture rarely deviates from form. When they do as on "(This Night Belongs) To The Dead", the resulting track is a refreshing blend of slow, heavy riffing, spiked with speedier solos and a variety of mid-tempo bridges. The song has depth and complexity making it stand out and foreshadows a great future for the band.
The Guillotine contains only eight songs, all of which are very listenable.  Recommended for Speed Metal fans who enjoy being the first to hear emerging talent.
TUNE INTO METALEXPRESSRADIO.COM at NOON & MIDNIGHT (EST) / 6:00 & 18:00 (CET) TO HEAR THE BEST TRACKS FROM THIS UP-COMING RELEASE!!!