REXORIA – Queen Of Light -

5.0/10
Summary
REXORIA
Queen Of Light
Pride & Joy Music
19 January 2018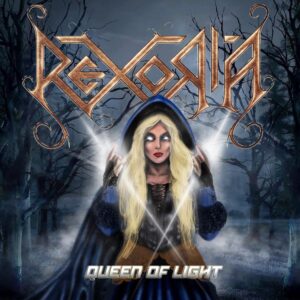 Sweden's Rexoria describes their music as Folk influenced Melodic Hard Rock with powerful female vocals, burning guitar riffs and blasting drums.  Unfortunately Queen Of Light, the quartet's first full length album, isn't always powerful, burning, or blasting. The muted mix of the rhythm section stifles the bass and drums forcing the guitar and vocalist to carry the album. Also, the songwriting lacks variety and complexity.
Ten 4-6 minute songs follow an unfortunate atmospheric intro and feature mid-tempo or slower pacing resulting little differentiation between them. The songs contain decent musical ideas which are, for the most part, well performed vocally and instrumentally but are overstretched. When the band adds some depth with keyboard and background vocal harmonies, the results are highlight tracks such as the inspirational title track, "Queen Of Light", and the lilting, "Voice Of Heaven".  Unfortunately, the band employs these touches sparingly and are often underrepresented in the mix.  Other highlights are "My Spirit Will Run Free" which has a vibe similar to Hammerfall's "Crimson Thunder" and "Way To Die" which features both mid and up tempo riffs and a catchy chorus. Unfortunately, the latter song pushes the vocalist, who is solid throughout the album, out of her range from too low to a cringe-worthy scream.
While Queen Of Light could've benefited from some editing and better differentiation between songs, it is a solid debut effort which highlights a band with excellent potential.  Recommended for fans who like their Melodic Metal with a dash of Folk.
TUNE INTO METALEXPRESSRADIO.COM at NOON & MIDNIGHT (EST) / 6:00 & 18:00 (CET) TO HEAR THE BEST TRACKS FROM THIS UP-COMING RELEASE!!!
Track list:
The Land In Between
Stranded
Queen of Light
Voice of Heaven
Way To Die
Song By The Angels
Next Generation
The Saviour
Hurricane
My Spirit
Members:
Frida Ohlin:  vocals and keyboard
Jonas Gustavsson:  bass guitar
Cristofer Svensson:  guitar
Martin Gustavsson:  drums