AMANDA SOMERVILLE'S TRILLIUM-Tectonic -

7/10
Summary
AMANDA SOMERVILLE'S TRILLIUM
Tectonic
Frontiers Music SRL
June 8. 2018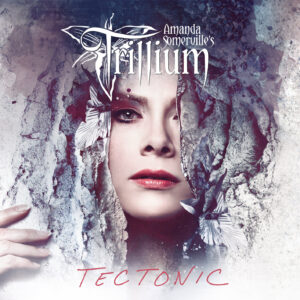 Listening to the new Amanda Somerville's Trillium album Tectonic is smooth sailing. There's Somerville's smooth operatic voice, smooth guitars (provided by Somerville's husband and After Forever alumnus Sander Gommans), smooth keyboards. Nary an edge in the entire package; even many of the lyrical themes are smooth, starting out with positivity-laden song titles like "Time To Shine", "Stand Up", and "Full Speed Ahead". Even the harder rocking "Shards" is free from any jagged pieces, making Tectonic's ten songs a sonically pleasing palette, the music bright and uplifting but perhaps an unintended consequence of the lack of edges is the tendency of the music to rush through the ears and into the brain and then out of mind completely. Happiness will ensue upon cuing up Tectonic; the listener will experience euphoric waves of good feeling that may well last for hours after. But when the album is over, the listener will be pleased with how beautiful and strong Somerville's voice is and how competent the arrangements are, but they might not remember any of the actual songs they just heard.
Symphonic Metal, a genre where Somerville has an extensive, distinguished career, having worked with Avantasia, Epica, After Forever and a host of other luminaries, tends to favor albums over individual songs in creating its lasting effects and so the dearth of standout tracks isn't necessarily a detriment here. One must wonder, though: was Trillium not a good enough band name on its own?
TUNE INTO METALEXPRESSRADIO.COM at NOON & MIDNIGHT (EST) / 6:00 & 18:00 (CET) TO HEAR THE BEST TRACKS FROM THIS UP-COMING RELEASE!!!