UNLEASH THE ARCHERS - Apex -

9.0/10
Summary
UNLEASH THE ARCHERS
Apex
Napalm Records
June 2, 2017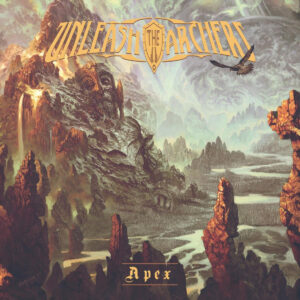 A successful Power Metal band not only needs musicians who hold it all together at top speed, but also a vocalist who delivers clean power and completes song after song.  Canada's Unleash The Archers are fortunate to have both.  Combine those elements with excellent song writing drawn from a decade of experience, an egalitarian sound mix allowing all the band members a voice, and the result is Apex.
While the opening track "Awakening" is a high speed Power Metal anthem complete with a grandiose soaring chorus, high speed drumming, frantic guitar runs and lilting flourishes, simply labeling the band Power Metal would be inaccurate.  The band aptly proves throughout the next nine tracks they write and execute outstanding Traditional and Melodic Metal as well.  The next four tracks are up-tempo Traditional Metal with melodic vocal and guitar flourishes; even some subtle Death Metal growls are drawn out from one of the band members.  The song "The Coward's Way" best incorporates all these elements, and features a riff right at home on a Dark Tranquility album.  The highlights of the second half of the album include the full-on Melodic Metal of "False Walls" and "Apex", and the heavy riffs of "Ten Thousand Against One".
Apex is a captivating album varying in style with well-written songs independently strong enough to be shuffle-played for a new experience each time you listen.
TUNE INTO METALEXPRESSRADIO.COM at NOON & MIDNIGHT (EST) / 6:00 & 18:00 (CET) TO HEAR THE BEST TRACKS FROM THIS UP-COMING RELEASE!!!