SABER TIGER - Bystander Effect -

6.5/10
Summary
SABER TIGER
Bystander Effect
Sliptrick Records
Release date: 13 March 2018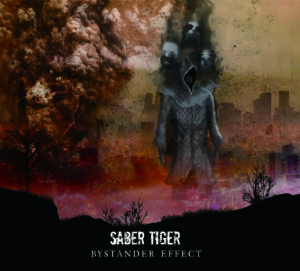 Long in the shadows of their better known countrymen, Loudness, Saber Tiger have been part of the Japanese Heavy Metal scene just as long and, arguably, have been just as influential. The international release of Bystander Effect aims to increase world-wide recognition of the band's brand of Power Metal spiked with Progressive and Thrash Metal touches.  It features four updated tracks with Anglo-sung lyrics and other recordings not available on the original 2015 release.  The song writing on Bystander Effect is musically and lyrically engaging. The band's instrument mastery and precise execution is a pleasurable experience; however, the vocals largely fall flat and fail to match the overall frenetic intensity.  This is unfortunate because the mix prominently features the vocals which are distracting. Power Metal vocalists need to project power to match the music but that isn't happening here.
"Dying Breed" opens with Thrash Metal intensity and backs off occasionally to allow the awkward vocalist to inject mojo killing lyrics. Unfortunately, this formula repeats throughout the album.  "Sin Eater" follows and is one of the highlights of the album.  A high-tempo intro morphs into a menacing pulsing guitar where the vocalist sounds great interjecting a near spoken word delivery.  Listen for the outstanding guitar solos during this song and the others which follow. It helps amend for the vocalist's strained attempts to sustain notes or hold vibrato.  Another highlight is "Act of Heroism". Its high speed Groove Metal riffing keeps the vocalist from lingering too long. The song "Devastation Trail" is a good example of a slower song which allows too much time for the vocalist to strain too high for too long.
Bystander Effect is a very good album overshadowed by a very weak vocal performance. This is a safe recommendation for patrons of Japanese Heavy Metal and die-hard Power Metal fans, but worldwide recognition remains elusive.
TUNE INTO METALEXPRESSRADIO.COM at NOON & MIDNIGHT (EST) / 6:00 & 18:00 (CET) TO HEAR THE BEST TRACKS FROM THIS UP-COMING RELEASE!!!
Track Listing
1. Dying Breed
2. Sin Eater
3. Act of Heroism
4. Dreadout
5. One Last Time
6. Just-World Hypothesis
7. What I Used to Be
8. Shameless
9. An Endless End – Another Time
10. Devastation Trail
11. Afterglow
12. Ship of Theseus
13. First Class Fool (Bonus Track)
14. Sin Eater (2013 Demo – Bonus Track)
15. What I Used to Be (2013 Demo – Bonus Track)
Band Members
Takenori Shimoyama – Vocal
Akihito Kinoshita – Guitar
Yasuharu "Machine" Tanaka – Guitar
Hibiki – Bass
Yasuhiro Mizuno – Drums