WISHING WELL - Rat Race -

/10
Summary
WISHING WELL
Rat Race
Inverse Records
02 March 2018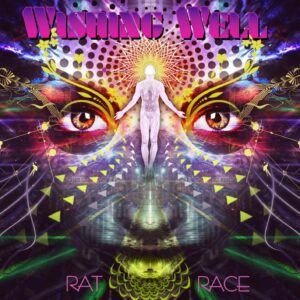 Wishing Well's follow up to their 2016 debut album Chasing Rainbows features a new vocalist and adds a Hammond organist giving the five-piece band a distinctive 1970's Hard Rock sound.  The production and mix, while professional, is extraordinarily clean and emphasizes the vocals at the expense of the rest of the band.  The net effect is a distinct lack of heavy edge. There are some ambitious risks, but it suffers from a metal-by-the-numbers presentation which lacks imagination and spontaneity.
"You Can't Keep A Good Man Down" is a Blues tinged mid-tempo song which delivers lock-step melody and lyrics. This pattern of the entire band riffing on the same melody repeats throughout the album.  Other songs such as "The Day Of Doom", "Children Of Paradise", and "Pilgrim Caravan" are further examples of this simplistic delivery.
The highlights front-load the album. The first four songs are musically adventurous with moments of up-tempo virtuosity.  The pulse-quickening opener, "Wheeling And Dealing", doesn't break new ground but is a rollicking display.  "Children Of Paradise" channels Dio complete with a children's choir singing the oft-repeated chorus.  "Sleepless Nights" is the most memorable tune with an old-school organ intro which segues into up-tempo Power Metal lyrics and melodic hooks.  The ambitious "Pilgrim Caravan" features a violin giving it a Middle Eastern ambiance.  This works well within the song but wears thin during the extended solo outro.
Fans of 1970's Hammond organ-infused Hard Rock should check out Rat Race. There are moments of inspired song writing but not enough memorable moments to recommend it to a broader audience.
TUNE INTO METALEXPRESSRADIO.COM at NOON & MIDNIGHT (EST) / 6:00 & 18:00 (CET) TO HEAR THE BEST TRACKS FROM THIS UP-COMING RELEASE!!!
Track list:
1. Wheeling And Dealing
2. Children Of Paradise
3. Sleepless Nights
4. Pilgrim Caravan
5. Rat Race
6. Falling Out Of Love
7. A Little Dream
8. Grain Of Sand
9. You Can't Keep A Good Man Down
10. The Day Of Doom
Band Members:
Anssi Korkiakoski – Guitar

Rafael Castillo – Vocals
Rick Becker  – Bass guitar
Juha Kivikanto – Drums
Arto Teppo – Organist