URIAH HEEP – Living The Dream -

6/10
Summary
URIAH HEEP
Living The Dream
Frontiers Music
14 September 2018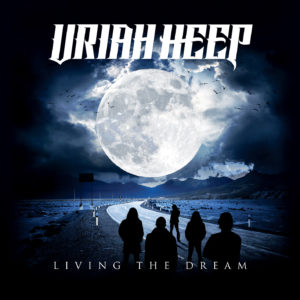 What motivates a band which has 24 studio albums and achieved worldwide success?  Who influences a band which already receives countless accolades and has a solid fan base?  Fortunately for Uriah Heep fans, the band retains its passion and embraces contemporary ideas.  For Living The Dream, they wanted to create "A full blown 'rockin' Uriah Heep record" with power, passion, harmony and substance. Jay Ruston, producer of Black Star Riders, Europe, Stone Sour and The Winery Dogs, offers a fresh sound.
Ruston masterfully captures the clarity and power of each band element.  The songs vary between rockers, ballads and Prog Rock.  The majority of the highlights are the rockers early in the album. Uriah Heep's signatory heavy and melodic interplay of keyboards and guitar woven with powerful vocals and choruses punctuated with backing vocals propel "Grazed By Heaven", "Take Away My Soul", and "Knocking At My Door".  The Prog Rock stylings of "Living The Dream" and "Rocks In The Road" allow the band to stretch while still maintaining a heavy edge.  The latter half of album doesn't maintain the quality song writing.  The "na, na, na" lyrics and repetitive chorus of the ballad "Waters Flowin'" sound tired and kill the album's momentum.
The songs on Living The Dream face long odds for becoming fan favorites or securing anything more than a temporary spot on a setlist.  That said, there are enough well-written, performed and mixed of songs to warrant the consideration of Classic Rock fans.
TUNE INTO METALEXPRESSRADIO.COM at NOON & MIDNIGHT (EST) / 6:00 & 18:00 (CET) TO HEAR THE BEST TRACKS FROM THIS UP-COMING RELEASE!!!
TRACKLIST (Highlights: 1, 2, 3, 4, 5)
1. Grazed By Heaven
2. Living The Dream
3. Take Away My Soul
4. Knocking At My Door
5. Rocks In The Road
6. Waters Flowin'
7. It's All Been Said
8. Goodbye To Innocence
9. Falling Under Your Spell
10. Dreams Of Yesteryear
LINE-UP
Mick Box: Guitar, Vocals
Phil Lanzon: Keyboards, Vocals
Bernie Shaw: Lead Vocals
Russell Gilbrook: Drums, Vocals
Dave Rimmer: Bass, Vocals