Summary
POWERGAME
Masquerade
Iron Shield Records
18 January 2019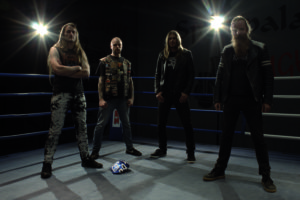 Germany's Powergame have a passion for NWOBHM.  They cite the genre's who's who of bands as their main influences and say razor-sharp riffs, twin guitar-leads, pumping bass, driving drums and distinctive vocals are the ingredients of their songs.
Two things are immediately apparent on first listen.  1. Musically, the band does the NWOBHM genre proud.  They sound very similar to the bands who influenced them: Tygers Of Pan Tang, Samson, Tank, Raven, Holocaust, Angel Witch, Demon and Iron Maiden.  Hook laden riffs are the norm.  Opener "Legion Of The Dead" showcases the twin guitar leads alternately riffing in tandem and trading solos.  2. Following in the footsteps of most of these bands, the vocals are strikingly weak and tough to appreciate.  The passionate but uninspiring delivery brings to mind Burke Shelley of Budgie.  The closer "Blackout", a Scorpions cover, is a good example.  The vocalist delivers the lyrics flat and makes no attempt to match Klaus Meine's higher inflections.  Vocals aside, the production is contemporary, crystal clear and impactful.  Song schematics echo those of Iron Maiden and Raven. The album contains tracks worthy of repeat listens; though the listener will find the vocals too distracting in "Final Warning" and the eponymous "Powergame" and the construction of "Ghost Town" is too awkward.
Fans of NWOBHM who enjoy gritty, honest second tier bands like Holocaust, Raven and Diamond Head, will readily forgive the blue collar vocals and appreciate the album.  Listeners who demand more polish and finesse should sit this one out.
TUNE INTO METALEXPRESSRADIO.COM at NOON & MIDNIGHT (EST) / 6:00 & 18:00 (CET) TO HEAR THE BEST TRACKS FROM THIS UP-COMING RELEASE!!!
TRACKLIST (Highlights: 1, 2, 3, 6, 8, 9)

1. Legion Of The Dead

2. Lucid Dreams

3. Puppets On A String

4. Powergame

5. Final Warning

6. The Chase Of The Falcon

7. For Those Who Died

8. Baptized In Fire And Steel

9. Masquerade

10. Ghost Town

11. Blackout (Scorpions Cover)
LINEUP

Matthias Weiner – guitar, vocals

Marc Zimmermann – bass

Tobias Hoppe – guitar

Klaus-Gerald Fedeler – drums