OLD MOTHER HELL – Old Mother Hell -

5.5/10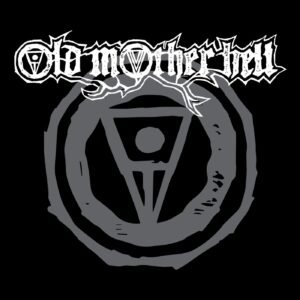 Mannheim, Germany's Old Mother Hell describes their self-funded six-song debut EP as a "… balance between mountainous epic metal and a straightforward attack, with doom influences…"  Their goal was to recreate the fat sound of their rehearsal room.  They explain "…regarding today's listening and production standards, we are probably breaking every rule. Not anyone may like it, but we don't care. For us it was a fantastic journey through time back to the golden era of rock music."
Within thirty seconds of the opening track "Mountain", the fat sound is positively obese.  From the audible amplifier hum at the start to the subsequent bombastic power trio attack, the mix notably blunts the high end.  Cymbals are muffled. When the guitarist tiptoes out of the doom and gloom into daylight, the tones are too indistinct to capture a listener's attention.  Despite the definition-robbing mix, "Mountain" showcases the band's best.  It begins superbly slow and doomy then builds to a breakneck speed finish with an excellent chorus complete with complimentary backing vocals.  "Narcotic Overthrow" and "Another War" follow. Both are well-written and include refreshing moments of guitar clarity when it's not buried under a crush of drums and bass guitar. Of the remaining three songs, the title track "Old Mother Hell" stands out.  Clocking in at over eight and a half minutes, the band takes time to slow down and explore different song ideas.
Old Mother Hell attempts to create a journey back through time similar to the tone of Black Sabbath's 1972 album Vol. 4, but its mix isn't up to that era's standards.  For fans of Doom influenced Classic Heavy Metal, this is still worth a listen. This band shows great potential.
TUNE INTO METALEXPRESSRADIO.COM at NOON & MIDNIGHT (EST) / 6:00 & 18:00 (CET) TO HEAR THE BEST TRACKS FROM THIS UP-COMING RELEASE!!!
Track list:

1.  Mountain

2.  Narcotic Overthrow

3.  Another War

4.  Howling Wolves

5.  Kneel To No God

6.  Old Mother Hell

Band Members:

Bernd Wener  guitarist/vocalist

Ronald Senft  bassist

Ruben André  drummer