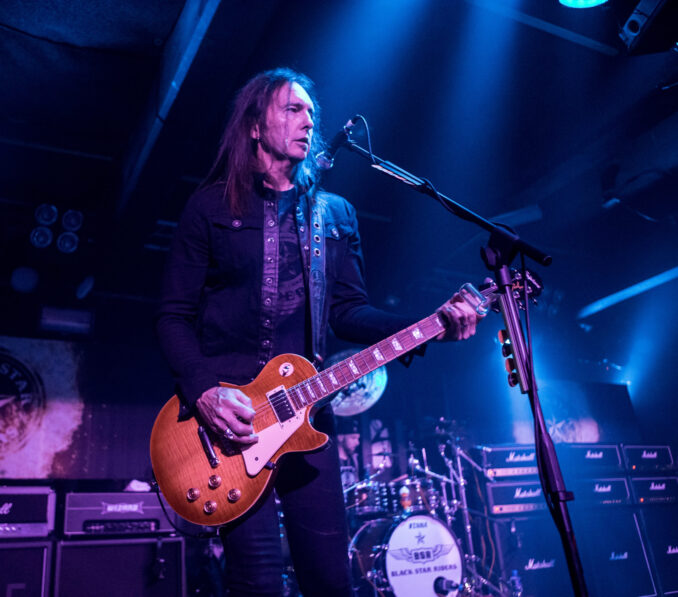 They`ve been on tour for nigh on two years in support of their latest album Heavy Fire and that journey came to an end in Sheffield in more ways than one.  Not only is it the last night of the world tour that`s seen them trek the globe from North and South America, Europe and Japan and back again, but it`s also the last ever show with founding member, lead guitarist, songwriter and all-round nice guy, Damon Johnson.  So, tonight was one of somewhat mixed feelings.
Having missed most of opening band, The Howling Tides, catching up with Robbie Crane for a pre-show interview, hearing the last couple of songs was enough to mark them down as one to check out.  Strong melodies and a gifted singer, they certainly made a mark on Ricky Warwick who was watching enthusiastically from the side.
While waiting outside ahead of the interview with Robbie Crane, a couple of genial Scotsmen turned up and had a quick chat before heading away.  Imagine the surprise in seeing those said same Scotsman up on stage with the second support act, The Rising Souls.  What an impressive bunch these were.  Imagine the deep heavy grooves of The Walking Papers with the Blues grit of The Temperance Movement and in singer, Dave Archibald, a genuine soulful powerhouse of a singer. Definitely another worthy of further investigation.
By the time the clock struck nine, Bloodshot and the title track from the All Hell Breaks Loose album, heralded Black Star Riders onto the stage for one last show with this incarnation before the Thin Lizzy classic Jailbreak, raised the roof.
Black Star Riders shows are always intensely passionate affairs, full of Rock `n` Roll energy, but tonight`s raised the bar to a new high with Damon Johnson in particular grasping the moment with both hands to leave on an absolute high. His rapport with Ricky Warwick tangible and delivering those delicious harmony solos with Scott Gorham so great to see for a final time.
The more commercial rockers Bound For Glory and Finest Hour locked horns with the bombastic Kingdom Of The Lost which saw Black Star Riders at their Celtic inspired best where Johnson and Gorham were in their element while bassist Robbie Crane and drummer Chad Szeliga locked down the rhythm with tight precision.
Ricky Warwick was in commanding form, his voice powerful with his Irish lilt giving it such a unique style but it was possibly on Blindside where he excelled, such a delicate, moving melody just dripping with emotion.
The rarely played Ticket To Rise and Charlie I Gotta Go were welcome additions to the set mixing well with the more familiar Dancing With The Wrong Girl and Soldierstown.
Following When The Night Comes In, the microphone was handed over to Damon Johnson for a moving farewell speech that ended with a spontaneous outbreak of chants of "Damon, Damon". Emotional stuff.
A rabble-rousing finale of Whiskey In The Jar saw a Lynyrd Skynyrd style guitar attack as all members lined up together at the front of the stage to bring the tenure of Damon Johnson to a stirring and triumphant end with Johnson visibly moved as the rest of the band warmly embraced him while the crowd chanted his name for one last time.
Review and Photos By Mick Burgess