BLADE KILLER - High Risk -

5.7/10
Summary
BLADE KILLER
High Risk
December 3, 2018
M-Theory Audio
Maxxxwell Carlisle (at) MetalExpressRadio.com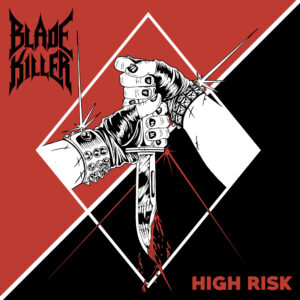 This debut album from Los Angeles based Old School Speed Metal act Blade Killer, is solid but lacking in originality or anything that hasn't already been put forth by other band's in the genre. Taking its influences from classic bands like Iron Maiden, RIOT, Saxon, and perhaps more contemporary acts like Striker, Blade Killer has forged High Risk into a retro styled and sounding blend of New Wave of British Heavy Metal and Classic Speed Metal.
Vocalist Carlos Gutierrez' vocal delivery is adequate but not exceptional, although the song structures and melodies are such that he may be capable of more than what is required here. He certainly never sounds out of his element. The guitar work might be the highlight of this release, as the solos are substantially more shreddy than one would expect. The lead guitar work takes a more modern approach and when this is layered over the traditional 80's riffs, the dynamic is excellent.
Most of the songs on High Risk would probably make great, high energy live tracks and the band certainly sounds like they know what they're doing in terms of their execution. The challenge for Blade Killer will be to find some way of distinguishing itself from all the other bands with similar influences and sounds. Still, this is a solid debut effort and hopefully the start to a strong and lastly career.
TUNE INTO METALEXPRESSRADIO.COM at NOON & MIDNIGHT (EST) / 6:00 & 18:00 (CET) TO HEAR THE BEST TRACKS FROM THIS UP-COMING RELEASE!!!