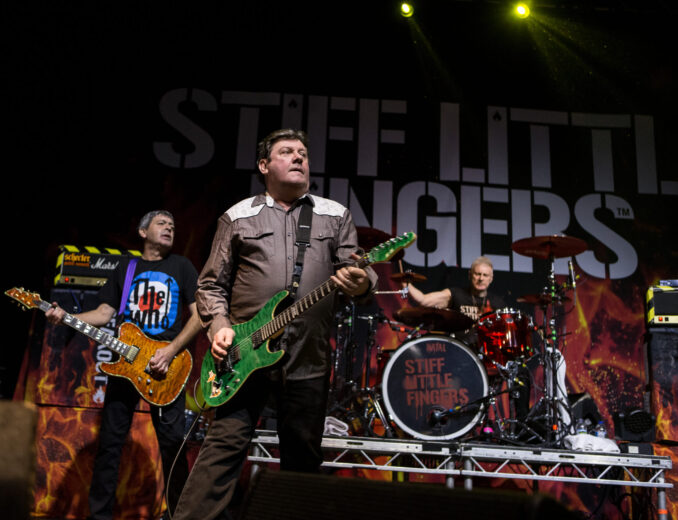 As sure as eggs are eggs, as winter makes way for spring, you can bet your bottom dollar that Irish Punk legends, Stiff Little Fingers, will be back in Newcastle around mid-March and bang on schedule their eagerly awaited return was welcomed by a crowd literally shoe horned into the Academy with barely enough space to add a wafer-thin mint.
In keeping with this tradition SLF also bring along a sure-fire winner as special guest and this tour was no exception as Eddie And The Hot Rods led by original singer Barrie Masters hopped aboard for their last ever run of shows before calling it a day after well over 40 years on the road.
With the current line up including Simon Bowley on drums and Richard Holgarth on guitar together for over 16 years their craft has been honed by some serious touring playing here, there and everywhere.
A super charged Rock `n Roll smash and grab romp through Teenage Depression, Quit This Town and Life On The Line had the crowd simmering nicely but uber hit, Do Anything Do You Wanna Do had them at boiling point before a rampant Gloria finished the job. Eddie ad The Hot Rods may soon be no more but at least the musicians will be continuing and stepping up with Headline Maniac which will no become their main focus.
SLF have been around long enough to know what their fans want and that`s why they come back year after year and play to sell-out crowds. With a radically revamped setlist, SLF took no prisoners.
With traditional closers At The Edge and Suspect Device occupying an unusually early slot in the set, it was anything but a predictable run through their greatest hits.  Law and Order from their ground-breaking Inflammable Material album kicked things off in vintage style and State of Emergency one of the first songs that singer Jake Burns ever wrote dug deep into the catalogue leaving many of the long-standing fans jumping for joy.
Burns himself, was on absolute top form with his voice packing a much harder, imposing punch than he did as a twenty something year old and few vocalists can stake such a claim.
Covering issues such as racism, abuse, depression and the Troubles in Northern Ireland, SLF have never shied away from tackling difficult subjects but the lyrics never overshadowed the songs but gave them added impact and relevance.
The fast paced, hard hitting Punk rockers like Just Fade Away and Wasted Life mixed with the more Folk tinged Harp and Guilty As Sin gave a real, variety throughout the set. While classics Nobody`s Hero and Tin Soldiers harked back to the dim and distant past, 16 Shots saw SLF with their sights firmly set on the future but it was left to the iconic riff of Alternative Ulster to ignite the mosh pit for one last furious time. 
Review and Photographs By Mick Burgess