Summary
LUGNET
Nightwalker
Pride & Joy
25 January 2019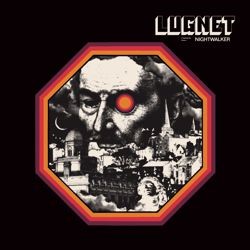 Sweden's Lugnet describe their sound as tough and gritty 70s hard rock. Each song on Nightwalker tells a story using a wide range of arrangements and sounds which will take all 70s Hard Rock fans by storm.
Opener "Die For You" hits early and often like a meaner and leaner version of Deep Purple's "You Fool No One".  It confirms Lugnet's intention to play a metallized version of 70s Hard Rock.  "Begging" continues the high speed groove with infectious riffs and righteous lyrics.  While the remaining songs don't match the fury of the two opening tracks, they also don't lack for creative arrangements or hooking power.  "Never Again" down shifts without sacrificing impact wringing out riffs dripping with Heavy Blues swagger.  Downshifting even further, "Death Laughs At You" begins with a doomy intro before settling into an emotive Blues duel between vocalist and band.  It sounds like the rhythm section of Geezer Butler and Bill Ward backing up Stevie Ray Vaughn.  Check out the big chorus in "Living In A Dream" and the even bigger ZZ Top inspired guitar salvos.  Closing track "Kill Us All" channels Black Sabbath riffing from 1972s Vol. 4 creating a crushing statement of retro audio bliss.
Nightwalker is a well-produced, written, and performed.  It's a storm of an album which 70s Hard Rock fans will gladly ride out.  Lugnet throws down the gauntlet for the best album of 2019.  Who will take up the challenge?
TUNE INTO METALEXPRESSRADIO.COM at NOON & MIDNIGHT (EST) / 6:00 & 18:00 (CET) TO HEAR THE BEST TRACKS FROM THIS UP-COMING RELEASE!!!
TRACKLIST (Highlights: 1, 2, 3, 4, 5, 6, 8 )

Die For You

Begging

Never Again

Death Laughs At You

Living In A Dream

Cockroach

Kill Us All
LINEUP

Johan Fahlberg: vocals

Matti Norling: Guitar

Marcus "Mackan" Holten: Guitar

Lennart "Z" Zethzon: Bass

Fredrik Jansson-Punkka: Drums