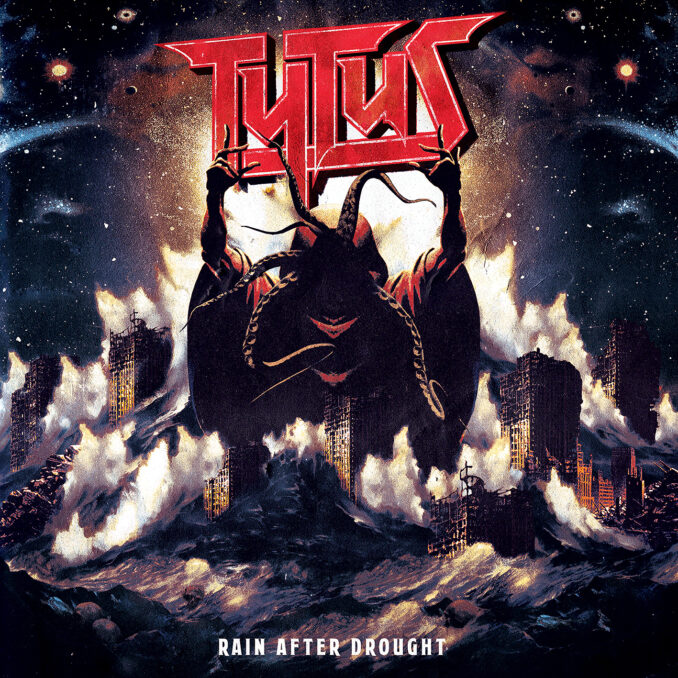 TYTUS-Rain After Drought -

8/10
Summary
TYTUS
Rain After Drought
Fighter Records
January 8, 2019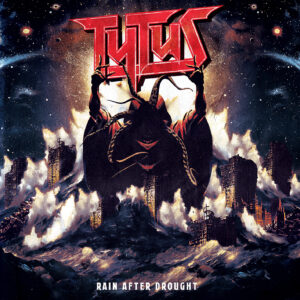 Tytus returns with their second full-length, Rain After Drought, following 2017's Rises. "Disobey" the first of the ten tracks, has a classic slow guitar build before turning up the jets at around the minute and a half mark in a very NWOBHM style, but after the first chorus the four-piece switches it up again with a musical passage that is straight out of the thrashier bands who loved and grew up on their forebears from across the pond; the guitar solo and bass line could be mixed into side one of Metallica's Kill 'Em All without upsetting the ears.
The album proceeds in much the same fashion, with the tropes of NWOBHM and Thrash being mixed and matched in a wide panoply of structures and arrangements. Second track "The Invisible" adds a hollow sounding chorus that draws out the sharp tension of the guitar riffing. "The Dark Wave" owes an obvious debt to Maiden's "Killers", the two-part "Rain After Drought" begins with an extended instrumental workout that is the album's longest cut before taking us into "Remember Tomorrow"-land with Part two.
One of the keys to this alloy of Metal is to set a foundation with recognizable riffs, but to vary the connective tissue of the music enough so that the music doesn't become overly repetitive or dull. Tytus understand their chosen idiom well; Rain After Drought is full of head-banging riffs but just when the listener is cued to think the band are going to settle for the obvious, they switch up and drive the music into a different direction, making Rain After Drought a highly enjoyable throwback album.
TUNE INTO METALEXPRESSRADIO.COM at NOON & MIDNIGHT (EST) / 6:00 & 18:00 (CET) TO HEAR THE BEST TRACKS FROM THIS UP-COMING RELEASE!!!