Motor City Mayhem – Shitfaced And Outta Luck -

7.0/10
Summary
Motor City Mayhem
Shitfaced And Outta Luck
Metalapolis
25 May 2018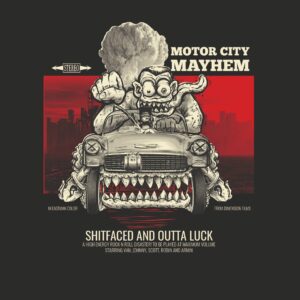 "We're Motor City Mayhem and we don't fuck around."  So sayeth the Hard Rock juggernaut from Stuttgart, Germany, on the opening track of their 10 song onslaught Shitfaced And Outta Luck.  The band is on a mission to deliver unpretentious music which is pure, rude, and real.  Their self-produced release accomplishes their objectives and generally is well mixed.
The band compares themselves to MC5, Blue Cheer, The Hellacopters and Backyard Babies.  The similarities are there.  The band generates a loose Hard Rock sound with careening guitars adding an element of unpredictability.  The retro vibe is punctuated with amp feedback at the each song's beginning and ending. The vocals are fuzzy for added grit.  The first seven songs take no prisoners.  These fully adrenalized songs feature dual guitars, an authoritative rhythm section with backing vocal support on choruses.  "Bad Habit" eases off the high speed Party Metal making space for the best song on the album.  It's a muscular mid-tempo number featuring air guitar worthy riffs and clever lyrical interplay between the vocalists.  The last two songs share a painfully high pitched feedback howl at the end of one and start of the other marring an otherwise decent mix and presents a serious obstacle to enjoying the songs.
Shitfaced And Outta Luck is low on complexity and high on listenability.  This album is a clear winner to liven up a party (at least for the first eight songs).  Recommended for fans of rollicking, up-tempo Hard Rock.
TUNE INTO METALEXPRESSRADIO.COM at NOON & MIDNIGHT (EST) / 6:00 & 18:00 (CET) TO HEAR THE BEST TRACKS FROM THIS UP-COMING RELEASE!!!
TRACKLIST (Recommended Tracks: 1, 5, 6, 8)
1.       Hey C'mon

2.      The Road

3.      When We Were Kings

4.      Bad Friends

5.      Eat the Rich

6.      Dead City

7.      Outlaws (…On the Run)

8.     Bad Habit

9.      Psycho Ward

10.  Burn in Hell
LINE-UP
VAN – VOCALS

SCOTT – GUITAR

JOHNNY – GUITAR

ARMIN – DRUMS

ROBIN – BASS